Meow, Me-Ouch: A Walk In The Dark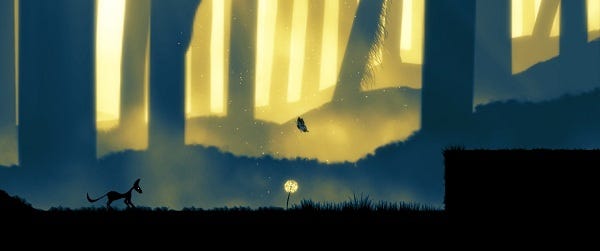 Do you remember the first time you played Super Meat Boy? What about VVVVVV, that noble ode to spikes, the eternal and unexpected end of so many heroes? Chances are almost all of you had exactly the same reaction - 'this is horribly difficult and that would be fine if I was looking at a cat while I'm playing it. For my nerves, you understand." Only a maniac would solve that problem by gluing a cat to the top of his monitor or attaching felines to his face. They scratch. Playing A Walk In The Dark may be the best solution. It's out now and includes inch-perfect platforming, spikes and a cat. There's a launch trailer below to prove it.
When I saw the first footage, I hoped for something more like the early Oddworld games or Flashback, mainly because I wanted to see a slickly animated cat climbing up ledges and exploring rather than exploding on a circular saw. If you do like to prevent cats from rubbing up against blades and spikes, you may be interested in purchasing A Walk In The Dark. It's DRM-free, direct from the developer and costs €5.