Middle-earth: Shadow of War announced [update]
More Mordor murders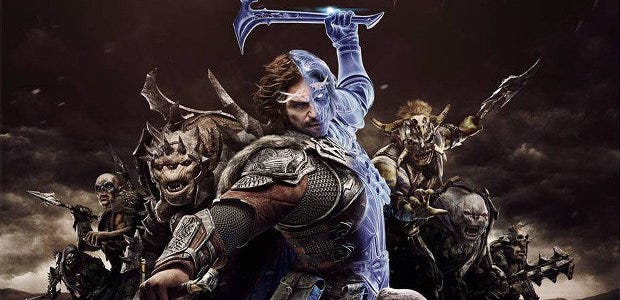 Update: Following a little leak, Middle-earth: Shadow of War [official site] is now officially announced. It's coming on August 22nd and yup, it sounds like more of the same but with an expanded Nemesis system. Check out the announcement trailer:
The press release says that Nemesis "is now applied to the entire world where the environments and characters are all shaped by player actions and decisions, creating a personal world unique to every gameplay experience." WB continue:
"Middle-earth: Shadow of War expands this innovation with the introduction of Followers who bring about entirely new stories of loyalty, betrayal and revenge. The Nemesis System is also expanded to create a unique personal world through Nemesis Fortresses, which allows players to utilize different strategies to conquer dynamic strongholds and create personalized worlds with their unique Orc army."
Nemesis Fortress!
And now, back to the original post.
_________________
It's been long enough since Middle-earth: Shadow of Mordor that I'd half-thought Warner Bros. had forgotten it. Seems not! The open-world stabfest will continue with Middle-earth: Shadow of War, according to a listing seemingly mistakenly added to the website of US shop Target - and since pulled. Unless Target have a mischievous work experience lad who's bored enough to mock up box art and everything, it's probably real (that said: never underestimate the power of bored teenagers). We only know a few minor details so I'll ask: what would you want? RPS folks have been a bit divided on Shadows of Mordor's legacy.
Shadow of Mordor, to refresh your memory, is an open-world action game with Batman: Arkham-ish combat and a fine 'Nemesis' system which turned minibosses into recurring nuisances. It came out in 2014, scooping glowing Wot-He-Thoughts from John and a golden Horace in our Bestest Best awards.
So what's going on with the sequel? The now-pulled Target listing said:
"Go behind enemy lines to forge your army, conquer Fortresses, and dominate Mordor from within. Experience how the award-winning Nemesis System creates unique personal stories with every enemy and follower, and confront the full power of the Dark Lord Sauron and his Ringwraths in this epic new story of Middle-earth.

"In Middle-earth: Shadow of War, nothing will be forgotten."
So more of the same? If you want to dig into rumourland, this Reddit post from months back has impressions from someone who said they'd playtested Shadow of War - long before Target leaked the name. That supposed NDA breaker also says it's more of the same.
Though Target's listing is gone, it lives on in screencaps. Also mentioned was a fancy Gold Edition with what sounds like a DLC season pass, covering expansions including a new Orc tribe, a new campaign, new playable characters and abilities, new missions, and so on. DLC stuff.
Target's didn't list a PC version but seeing as this evidently was premature, I wouldn't be too concerned about that. It also gave the release date as August 22nd but retailers are so often incorrect with dates in early listings.
What would you want from more Shadow? More of the same doesn't sound bad. In 2015, John has named Shadow of Mordor one of the very finest action games, using words like:
"Importantly, it does all this with meaty and satisfying combat, as well as a broad range of quests to complete in an ever-growing world.

"If everyone else doesn't copy the nemesis system, then we will despair until our souls run dry. Monolith have shown a wonderful direction for action gaming, and we hope many will follow it."
Though Alec has since cited it as one those action games we should celebrate as perfectly average. Said he, tongue in cheek:
"Oh come on, it's a 7. Yes, yes, I know it's got the nemesis system and a smashing melee combat system, but come on, the purest distilled essence of 7/10 beats through the veins of the delightfully dumb Lord of the Rings combat game. From Evil Ghost Elf advisor to mad psychic powers orcs' WWE-style intros, it's like a grimdark celebration of the solid killing and high concept twists of all the best seven-squadders. Between this and Mad Max, we have proof positive that the perfectly average 7/10 action game is still alive and well to this day, despite Assassin's Creed's best attempts to sap the life out of it. Long may it reign."
What say you, murderchums?