WayForward's Mighty Switch Force Now On PC
Spacecops are go!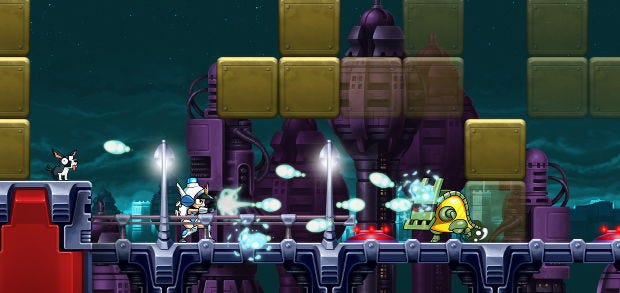 WayForward have built a fair reputation for themselves with platformers like Shantae, but most of their games are for Nintendo systems. They do bring them over to PC every so often, though, as they now have with Mighty Switch Force [official site].
Spacecop Patricia Wagon (Patty Wagon, yeah? Paddy Wagon, right? Eh?) is out to take down Space Hooligans in 2D shooty puzzle-platforming with this HDified 'Hyper Drive Edition' of the game, which is now on Steam for £6.29.
Patty does your usual running and jumping and shooting, but can also change the environment with her high-tech flashing helmet. That's where the puzzling comes in, shunting Patty and the Hooligans around. I have heard good things about the game. It's not meant to be too taxing, but does have par times to race if you fancy a little extra challenge.
WayForward first released Mighty Switch Force on 3DS in 2011, then brought the Hyper Drive Edition to Wii U in 2012. We've had to wait a bit. Here's a trailer from back when it hit Wii U: