Mind If I Come In: Dreamkiller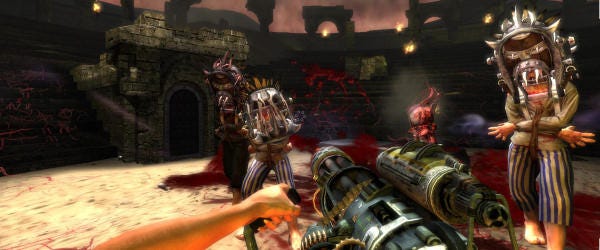 Yesterday saw the rather subdued announcement of a new game from Painkiller: Overdose developers Mindware Studios, a "mega-bloodbath" called Dreamkiller. Subdued since the game tantalisingly teased as a cross between the brainless shooty nonsense of Painkiller and cerebral entertainment of Psychonauts is mentioned on neither the developer nor the publisher's websites. Which seems an odd tactic. Anyway, more details below.
The Psychonauts comparisons seem to be entirely born of other sites getting excited by the game's premise. You play as Alice Drake, a psychologist who can mysteriously enter the brains of her patients. And that would appear to be as much as it has to do with Schafer's gorgeous platforming wonder. (Looking at the screenshots, we'd suggest Zeno Clash has been a more direct inspiration.) Once you're in the minds of your subjects, you then let loose with your collection of weaponry and magic powers to fight the nightmares within.
I'm not sure I could hope to match the press release's purple prose explaining this, so I'll bow out and hand over:
"Alice confronts our common demons only to discover an even deeper menace reigns within. The ultimate showdown becomes inevitable between that which would torment and she who will protect, and only one force will prevail amidst a variety of dreamscapes as varied and bizarre as the human mind itself. Dreamkiller features 12 rich levels of single-player gameplay each laced with swarms of hideous and disturbing enemies reflecting the mind's infinite palette of fear. The onslaught continues with numerous multiplayer modes and a host of over-the-top weapons and supernatural abilities. Stay awake, Dreamkiller will be available this fall."
Presumably there will be a website for it soon (or at least one that's linked to by either publisher or developer), and hopefully some more details. Painkiller may not win any prizes for intelligent gaming, but it was a dumb way to have fun for short bursts. (Mindware only developed the sequel, of course.) With a premise this daft, Dreamkiller might end up improving in that same niche.