Dead Letters: Missive
Typewriters and murder mysteries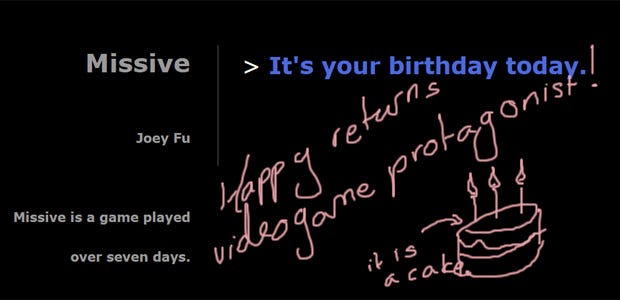 As a lifelong fan of Jessica Fletcher (my Livejournal icon used to be a picture of Columbo wondering WWJD – what would Jessica do?) Missive appears to have been tuned to activate my keyword excitement gland*. It involves a typewriter and a murder mystery
Missive is a Twine entry to this year's Interactive Fiction Competition. You have a week to solve the murder of Henry Astor, the previous owner of a typewriter you received as a gift. I found myself playing it through three times after being drawn into solving the puzzles so thought I'd flag it up here. Y'know, in case you fancied role playing as a daytime TV amateur sleuth.
My first playthrough was more about reading the letters which came bundled with the typewriter. I thought were about gathering information and exploring the story. Reaching the end, I was told I'd solved no puzzles and the concluding accusation felt unsatisfactory, although my character had drunk a lot and had a near-miss with an ex.
A second play went far better. Treating the letters as part of a story, but one which contains crossword-esque clues, yielded more options, while getting further into the research meant I was distracted from the ex and started to find new people to speak to. A final run saw me solving all but one of the letter puzzles and delving deeply enough into the lives of Astor, his wife and a girl named Lilly Clarke to make a satisfying accusation.
The game isn't perfect – the more I played, the more I encountered Missive's seams; the parts where branches of the story rejoined other strands. An ex who had just screamed "I hate you" into my face suddenly swapped to a far calmer, more understanding mood as it rejoined another version of that scene. The letter clues themselves didn't feel particularly helpful either but I'm completely willing to accept that might be because I have always been terrible at cryptic crosswords.**
Despite this I did find myself intrigued by the story – Astor's more than the one taking place in the present day – and the letter puzzles weren't impossible. After all, there's a hint mode you can switch on and only three options for each solution. Even if you never understand why you can still watch the story unfold – something I very much associate with daytime TV amateur sleuthing.
You can play Missive online via the IF website.
*What? I have a biology A-level. A keyword excitement gland is a real thing. It's a vital part of the digestive system.
**I set up a Skype group where a friend and I could puzzle over cryptic clues and get better at them. It lasted approximately an afternoon. MATT, get yourself to the crossword chatroom immediately!