Mod News: General Election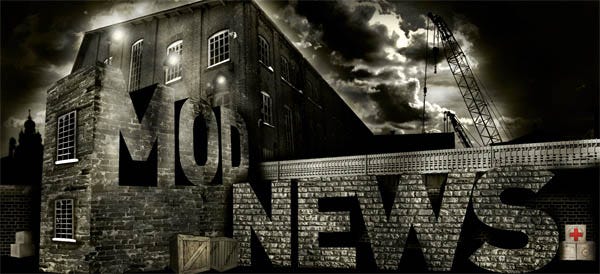 It's that time of year again, folks: the time when ModDB's annual awards roll around and everyone seems more eager to spam that website with pleas for votes rather than a great deal of anything interesting happening. Still, cutting through the mix - both there and elsewhere on the 'net - are a few gems. So here we go: the last seven days in interesting mod-related gubbins.

NEWS
Clear Sky Reloaded, the Stalker: Clear Sky mod which aims to offer "the definitive experience" of Stalker, as they all do, has a couple of new videos. One shows off the improved AI, while the other demonstrates a new blowout. There's some new screenshots beyond that link, as well.
Meanwhile, I've just spotted this - Metal Gear Solid: Source. Presumably a straight remake of Metal Gear Solid, it's looking surprisingly authentic - although it always worries me to see comments like "I was too lazy" written by the developer when explaining why a screenshot is inaccurate. Hmm.
Still on Half-Life 2, here are a few shots of what appears to be a very competently crafted mod called Alone We Travel. It's set in the HL2 universe, so nothing particularly imaginative is on display yet, but the mapping appears to be basically Valve-quality. No ETA yet, but I'll be following this one with my beady little eyes.
Here's some updates from crazy-ambitious San Andreas mod UnitedRussianMod - Criminal Russia. The idea is this: five major modding teams, each of whom made separate Russian cities for San Andreas, banded together to produce a big old Russian collection of new places to explore. Versions have been available to download since last year, but there's still new locations on the way, like the downtown area of Nizhegorodsk. Have a look beyond the above link to catch up on their progress.
And finally, the next version of acclaimed Crysis mod MechWarrior: Living Legends is on the way soon, now with full Crysis Wars support. To get us in the stompy mood, the developers have pieced together a big update showing development progress from the past three months. Well worth a look.
RELEASES
Many apologies to Dominic White, who expressed disappointment in last week's comments thread about the lack of a Stronghold: On The Edge of Chaos mention. I tend to piece these roundups together across the week, then finish stuff off on the morning before they're posted, which means that it's easy to miss last-minute stuff. This huge Doom total conversion, in development forever, was finally released last week, and is totally worth a look. Brand new multiplayer modes, as well as single-player stuff with new enemies, scripted sequences, and unique voice acting. About as big as mod projects come.
UPDATES
Half-Life 2 mod 1187, which I've still not got around to playing, has had a few patches released in the last month. Here's a full installer for the mod which includes them all.
And here's another update for One 4 Nine, the Left 4 Dead mod. I like the fact that, even though it's a campaign mod, the team is so eager to tweak and refine things post-release. So many would be content to release as-is, then never return to it.
AND THE REST
It's time for ModDB's Mod of the Year awards again, and this time things are a little different. As with the IndieDB awards, it's split between Players' Choice and Panel's Choice. I was on the panel for both, my votes have been cast, but I have no idea who's won anything.
Anyway, you can get voting by heading to ModDB, going to the page of your favourite mod, and clicking the big vote button. An interesting point's been raised in this comments trhead, though, which is that the way Mod of the Year is run means mods released in November and December effectively can't win anything, as part of the criteria is that the mod must have been released in the same year as the awards. One for them to look into in the future, perhaps.
But yes. 'Til next time, lovelies.