Mod News - Oh, There's The Scares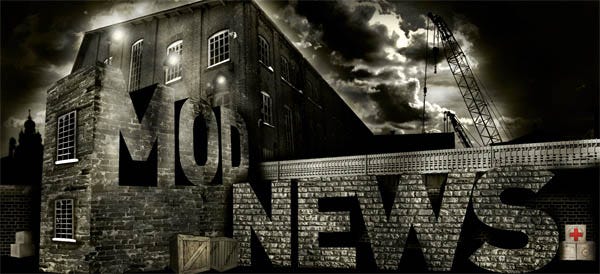 Last week I noted a lack of Halloween updates. In retrospect, I understand that this was probably due to it not having been Halloween yet. Friday saw a surge of them, so here's a round-up of those, along with other interesting happenings in the world of mods over the past seven days. Onwards!

NEWS
Half-Life 2 mod Tension is first in the post-Halloween update list, unveiling a new hook model, and a wonderful pumpkin lantern with which to show it off. While we've not seen any fully finished areas of the mod yet, its grappling mechanics already look very interesting.
Then there's The Island of Cthulhu, a Lovecraftian survival horror mod for Crysis, which released a new trailer in time for spooky season. It's looking suitably dark and sinister, a whole world away from the lush terrain of Crysis. This is on my ones-to-watch list.
And of course, no Halloween would have been complete without an update from Cry of Fear, the super-ambitious Half-Life 1 mod that's been in development for ages. There's a new screenshot, and a promise that the mod is almost finished. Just a few mapping tweaks then beta testing, apparently. I really cannot wait to play this.
Zombie Half-Life 2 mod No More Room In Hell also took the Halloween opportunity to release some new video footage, this time demonstrating the mod's objective-based play and a new weapon animation. (Yes, I know, this week's been very Half-Lifey.) I also only just spotted some absolutely wonderful artwork on its ModDB profile, which I've included below.
It's not all been Halloween or Half-Life, though. Although we are still in Valve territory here. Jastian Summer is an upcoming Alien Swarm mod, single-player only, and set on a planetary research colony. Not much other than a few screenshots to go on so far, but it's looking interesting. I'll keep my eye open.
And, oh look, more Half-Life 2. Sorry! But this is looking great. Off Limits, a multiplayer mod in which two teams hunt down and kill a big bad baddie, will be released next month. A bunch of new screenshots were unveiled this week, and it's looking just lovely. Have a peek here.
RELEASES
Wings of the Federation, a custom campaign for Freelancer, has appeared out of nowhere. There are 12 fully voice-acted missions, all set in a completely new universe. There's also a mandatory patch, which you can grab here.
Meanwhile, I already wrote in length about this, but: Tension Tedium was released. A short mod for Half-Life 2, it is interesting. Try it if you've a few minutes.
UPDATES
Left 4 Dead campaign One 4 Nine has been changed up a bit. There's an altered finale, adjusted spawning, and new instructor hints throughout.
And there's a patch for Fairy Tale - not a whole new version, but a tweak for the already existing version 10. A few minor updates here to the already acclaimed Civilization IV mod, which takes Civ's mechanics and drops them into a fairytale world.
AND THE REST
Just one this week, over at PC Gamer again, where Jaz McDougall's done a whopping round-up of Fallout: New Vegas mods. Just in case Quinns' slamming of the game didn't put you off. For the record, I liked it a lot more than him, and I played it on a console toy and everything. (I was reviewing it! I didn't have a choice! Please don't hit me in the face!)
'Til next time.