Monument Valley developer's dodgeball tactics game is out now on PC
Desta: The Memories Between was previously a Netflix exclusive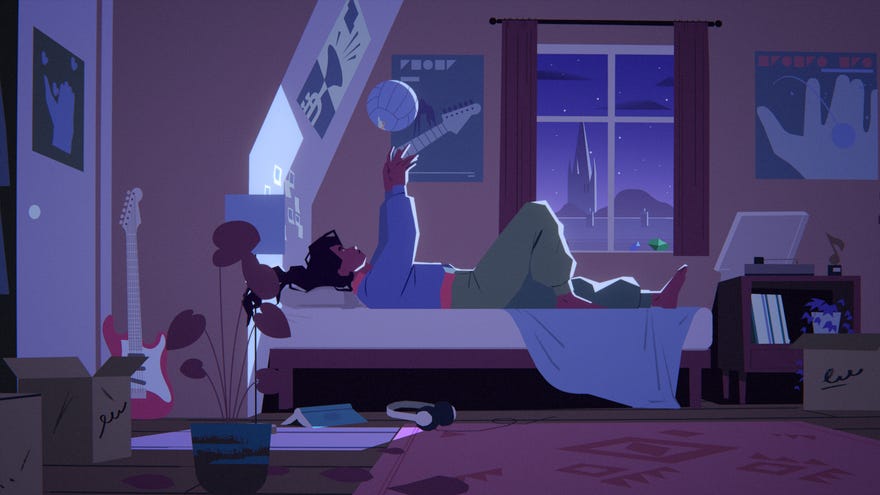 Desta: The Memories Between is out on PC and Switch today after it was first released on mobiles (via Netflix) last year. It's a colourful, dodgeball, tactics game from ustwo, the developers behind the perspective puzzler series Monument Valley and the environmental cleaning of Alba: A Wildlife Adventure - both very cool games. Ed enjoyed his two minutes of hands-on time last year, and with a pedigree this good, it's probably worth checking out for fans of sleepy sports.
As any grief-stricken person knows, the best way to cope with loss is to dive into your own dreams and play some fantasy sports - with the emotionally-charged ball of your late father, of course. The concept is slightly silly on paper, but I've always enjoyed the mind-exploration of games like Psychonauts and A Space For The Unbound. Metaphorical feelings manifest as literal, trippy places, and all that jazz.
Jumping into Desta's dreams takes you to a series of lovely dioramas that reconstruct important locations from her memories, just in a more surreal way. These remnants are where the tactical dodgeball action takes place. You can pass the ball to teammates for extra turns, position yourself on the grid to land trick shots, and use some flashy abilities to finally thump your foes in the face. Sounds like a decent mix of strategy, light RPG progression, and sort-of puzzle-solving as each stage has a unique layout to learn and master.
Since the game is partly about the struggles facing young people, the studio are also donating 3% of profits to youth centres based in the UK. You can read about the initiative and watch a mini-doc on ustwo's Steam blog.
So if dreamy dodgeball sounds good to you, there's currently a 15% introductory discount on Steam for the next week, but after May 2nd, Desta: The Memories Between will cost you £14.30/$17/€17. Today's PC release is actually the Dream Team Edition, so it includes all previous updates, the digital art book, and the soundtrack, which sounds quite good from the snippets heard in the trailers.