Morphopolis: Gorgeous Point And Click Is Nineteen Pence
Busy bees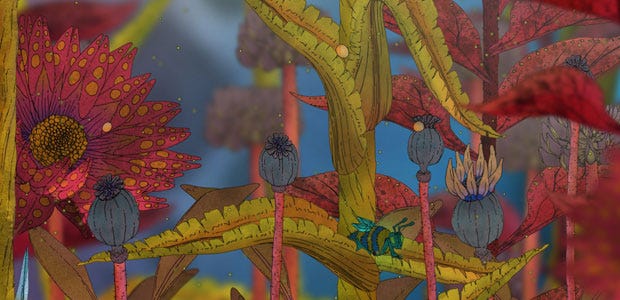 I managed to miss this until the last few hours of the sale but Morphopolis is 19p on Steam until 6pm BST. Nineteen pence. NINETEEN PENCE.
To explain why this might be worthy of your attention, it's a game where you clamber around in beautifully illustrated vegetation collecting seeds and dismembered insect limbs in order to guide a little grub through a process of metamorphosis. What I like about it is that it could so easily have been a twee project, but it sidesteps that both by having you collect bits of dead insects and also by having the metamorphosis process be rather creepy. You clamber inside the bodies of other insects and emerge kind of wearing bits of them.
It does follow a hidden object adventure template (collectibles followed by minigames) although far more endearingly produced and without the jarring insensibility to context that those games generally go for. And I say that as someone who plays hidden object adventures.
It's not a perfect experience - the shuffling between screens can become frustrating if you're in the mood to just get the collection tasks done, as can the fact that sometimes if you haven't moved your insect far enough into a screen, clicking on a collectible object can activate the "move back to previous screen" animation and you'll waggle back and forth in an annoying way. But it's a beautiful world to spend some time within.
Nineteen pence.