My Propeller: SKYDRIFT Announced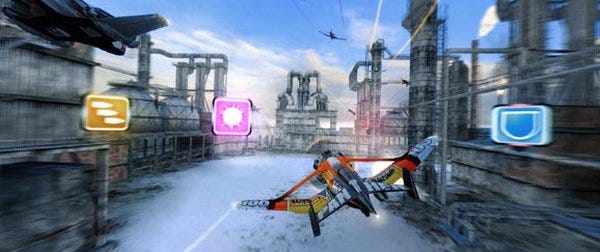 Digital Reality, who Wikipedia assures me is the oldest Hungarian "video game developer company" in existence, has gone and announced SKYDRIFT, a download-only racing game that looks a bit like Crimson Skies crossed with Playstation high-speed headtrip Wipeout. Why do I feel the need to make all these comparisons? I suppose it's so my brain doesn't drown in all these games, each of which is secretly as unique and beautiful as a snowflake. Trailer and press release ("spectacular and exotic locations," "extreme maneuvers," "aircrafts"!) after the jump.

Missiles! Big rocks! Guitar! Hey, this actually looks quite good.
Gain advantage using 6 different types of offensive and defensive power-ups and survive the infinite variety of extreme maneuvers often dangerously close to the ground.

Admire the amazingly detailed dynamic terrains and incredible vistas, from a desert canyon to a tropical island to arctic glaciers based on the most spectacular and exotic locations all over the planet. The breathtaking landscape includes monumental rocks, volcanic lava flows, scenic rivers and ice fields that provide a memorable experience in incredible graphics rarely seen in digital-only titles.

Unlock all 8 modern, state-of-the-art aircrafts tuned to the max. Personalize them with over 30 unique racing skins from military camouflage war paint for hiding, to the most shiny and colorful ones for domination.