NBA Playgrounds now slamming and jamming
Boom shaka-laka-laka!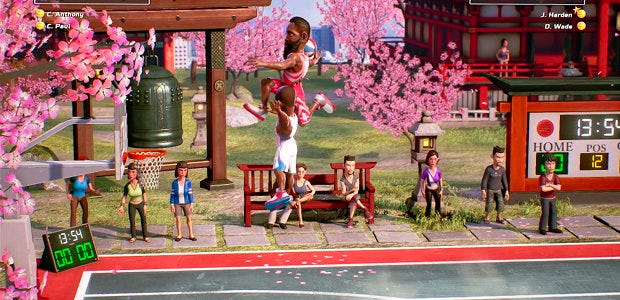 Arcade basketballing is now drooling on PC in NBA Playgrounds [official site], a 2v2 slammer jammer boom shaka-laka-laka boom shaka-laka-laka-er. It's a little bit NBA Jam, a little bit NBA Street, a little bit... it's arcade basketball, yeah? NBA Playgrounds is made by Saber Interactive, the gang also currently helping id Software with Quake Champions (hitting open technical beta on Friday!). And it's out now. Have a peek:
NBA Playground has 150-odd NBAmen, from across the 30 teams as well as the past and present, rendered in unsettling caricature. It has singleplayer slamming along with local and online multiplayer, though curiously multiplayer needs to be unlocked by playing a wee bit of practise (not much, mind).
NBA Playground is £14.99/19,99€/$19.99 on Steam for Windows. Initial player reviews are looking pretty positive.
It's a little-known fact that basketballers can actually jump tens of metres into the air -- haven't you ever wondered why basketball court ceilings are so high? -- but the forces involved risk splitting floorboards and shattering ankles. The NBA exists to regulate this behaviour until genetic manipulation can successful combine the leap and bounce of a frog with the upright stance and opposable thumbs of a human.