Never Say Never: Maybe Make Some Change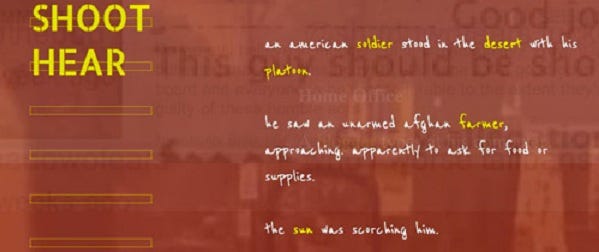 Maybe Make Some Change has certainly caused a change here, in my brain and my general emotional wellbeing. Despite the fact that it's a Monday and a thin and sickly rain is scratching against the windows trying to chill my soul, I was actually feeling pretty good about half an hour ago. Not so much now. This is a game that may make you think or may simply make you angry or sad, but it certainly won't make you say "By golly, that was a fun old time". It's a piece of interactive fiction (sort of) about this event, which took place in Afghanistan last year. You can experience it now or read my scrambled thoughts below.
Despite containing moving images and sound, Maybe Make Some Change is definitely a game of typing verbs and nouns in combination, so I'm comfortable calling it interactive fiction. But then it's based on fact and while acknowledging that the events are disputed, it is very much tackling real issues, so perhaps it's more like an interactive document. The method used to query what happened and why is to jump between perspectives and attitudes, with the player 'learning' new verbs, new ways to describe and to act, new behaviours to resolve an unclear situation.
Some of you may know developer Aaron Reed from his interactive novel, Blue Lacuna, which is an excellent and moving example of the form. Maybe Make Some Change is shorter and more painful; a shot of whiskey and a punch to the gut. It's a story that revolves, although stubbornly refusing to change its component parts, no matter how much they may seem to shift and become malleable.
Perhaps the most startling feeling I'm left with is that of having learned nothing. It's an interactive experience about an ongoing war but while it depicts horror it doesn't preach or make a chest-thumping political statement. Instead, it tells a brutal and frankly upsetting story about confusion: the confusion of combat, of conflicting opinions and advice, of hatred and prejudice, and, on all sides, the confusion of agendas and loyalty. In taking this approach, the game questions the intent of the blogger who writes about the event as well as the men involved in it. There's more about the genesis of the game and the author's intent here, including some fascinating details about the research that went into tackling a story involving real people.
I'm done with it. The background chatter is haunting me now and I need to decide which bright and cheerful thing to play, all the while feeling gratitude and guilt that those are the choices my day is filled with. Maybe Make Some Change is unsettling because it's so very real, yet so removed from life as most of us experience it every day.
Thanks to those who emailed me about this one.