No Man's Sky base-building update this week
A new beginning?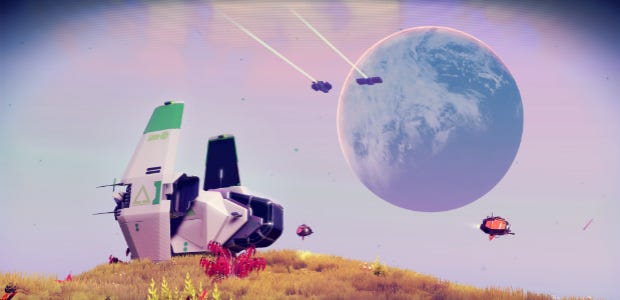 Hello Games have announced a major update for No Man's Sky [official site], to be released this week. Called the Foundation Update perhaps for Asimovian reasons, but mainly because it adds "the foundations of base building, and also because this is putting in place a foundation for things to come", it apparently won't be the biggest update for the game, but it'll certainly be the biggest one yet.
Since the game's release, Hello Games acknowledge that they "have been quiet", but say they've been listening to the commentary around the game:
The discussion around No Man's Sky since release has been intense and dramatic. We have been quiet, but we are listening and focusing on improving the game that our team loves and feels so passionately about.

Positive or negative feedback, you have been heard and that will truly help to make this a better game for everyone.

This update will be the first small step in a longer journey. We hope you can join us.
We don't have an exact date for the Foundation update. The post says "this week", which seems an odd thing to write on a Friday to me, but might mean either in the next seven days or before Monday. It's soon though. A lot sooner than I expected to be building bases on my lovely planet with the Tizer ocean.
That's the last place I saw in my playthrough, a beautiful planet with a red sea and a moon almost as big as the sky. I enjoyed the time I spent with the game but when we discussed it shortly after release, I reckoned I might never go back. A silly statement, really, because the promise of new things has me reinstalling instantly. I might not like how grindy the game became, the way I played it, but I love sightseeing in virtual worlds, and No Man's Sky, for all the faults I see in it, is a top notch bit of sci-fi tourism.
For more of our thoughts and feelings about No Man's Sky, you should take a look at Pip's galleries, these handy guides,Brendan's thoughts on the game's broken promises and our review.
[Disclosure: our Alec did some writing for No Man's Sky, but he didn't write ANY dialogue for the bases.]