Not Zombie Arkanoid: Dead Block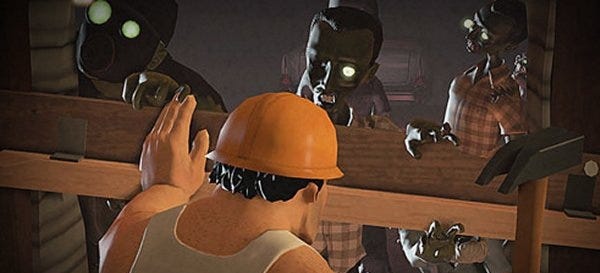 Cooperative zombie defence game Dead Block hit XBLARGH and PSN last summer and has only just managed to burst through the barricades previously holding it back from a PC release. There are no towers, this being '50s small town America it's mostly diners, motels and hair grease. but there's plenty of defending to be done. Rather than pointing and clicking to place turrets, players control one of three characters, rushing about, hammering boards across openings and planting traps. Zombies must die. Again. It didn't receive the warmest reception in console land and I'm yet to play it but at least there's a bit of old-fashioned rock and roll in there. Trailer below.
There's a fair number of places to buy Dead Block from, some of which I've never even heard of. Here's the list for your perusal. Price is around $9.99/£6.99.