NVidia Apologises For Crummy Tomb Raider Performance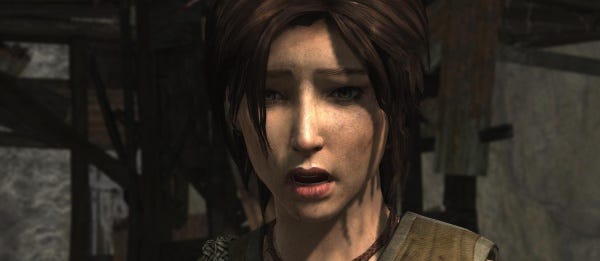 NVidia have written a little apology note to all suffering with Tomb Raider graphics issues. Although I've yet to receive chocolates. I mentioned in yesterday's Tomb Raider review that I had some issues with running the game on prettier graphics, and it seems I'm not alone. Apart from the silly hair mode reducing NVidia cards to jelly, I had peculiar problems with the OSD occasionally causing the game to judder, and couldn't play above the normal settings. Extraordinarily, as spotted by Joystiq, this is because for some reason NVidia didn't receive final code of the game until the weekend before release, so didn't have a chance to create an update to accommodate it all.
They weren't the only ones. For reasons unclear, PC code of the game wasn't made available to reviewers before release either, with an endlessly slipping promise explained by the developers' "tweaking until the last minute". However, it seems that it would have made sense to ensure NVidia had access whether they were worrying about details or not. It's also not known at this point whether AMD - they behind the TressFX hair daftness - were given some sort of priority, since all appears to work very well with their tech. Games have long picked one side or the other to befriend, but it seems openly detrimental to give a disadvantage to one of the two producers of your customers' graphics cards.
A statement left as a comment on the NVidia site states,
"We are aware of performance and stability issues with GeForce GPUs running Tomb Raider with maximum settings. Unfortunately, NVIDIA didn't receive final game code until this past weekend which substantially decreased stability, image quality and performance over a build we were previously provided. We are working closely with Crystal Dynamics to address and resolve all game issues as quickly as possible.

Please be advised that these issues cannot be completely resolved by an NVIDIA driver. The developer will need to make code changes on their end to fix the issues on GeForce GPUs as well. As a result, we recommend you do not test Tomb Raider until all of the above issues have been resolved.

In the meantime, we would like to apologize to GeForce users that are not able to have a great experience playing Tomb Raider, as they have come to expect with all of their favorite PC games."
So the take-home message here for NVidia users is to keep a close eye on their pages to look out for the release of the next driver, and make sure you keep your game patched to the eyeballs for when CD/Nixxes releases an update.