Oh Hi: Oh Hi
Binary decision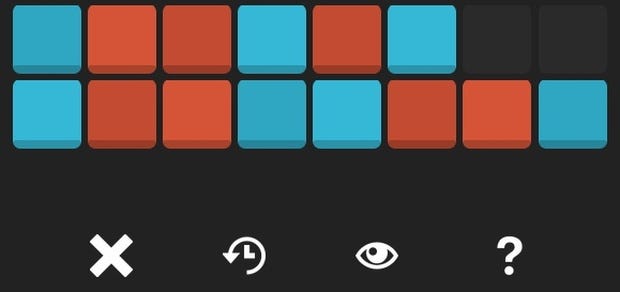 The best puzzle games are those where you never have to guess. It's why Minesweeper is a steaming pile of elephant poo, and Picross is the greatest thing to happen to humanity. Oh Hi, a neat, simple web-based game by Q42, is in the correct category.
A straight rendition of Takuzu (Binary Puzzle), it tidies up the traditional 1s and 0s portrayal with red and blue squares, which must be distributed evenly about 4x4 to 10x10 grids, following a simple set of rules.
Each row and column must have an equal number of blues and reds, no more than three blues or reds can be in a row, and no two rows or columns can feature the same pattern. That's your lot, and from this, you logically find the solution.
Created by Martin Kool (can that be a real name? I hope so), it's a very clean presentation of the puzzle, randomly generating completable grids in four different sizes. If you get stuck (which you really oughtn't after you've gotten used to it), there's a button that will reveal the row or column that contains the next move, and should you have made a mistake ages back you can take back turns one by one.
There's lots that could yet be added to this. Right now there's some sort of ambiguous points system that amounts to nothing, and as puzzles are randomly generated, there's no collection to work your way through, gold star, etc. There also aren't any sound effects. It'd be lovely to see the creator work out some of the more interesting starting positions, and set them up as collections. Then mix it up with, say, stars for completing in the minimum number of clicks, under a certain time limit, and the like. And it would be especially good to see the concept elaborated upon. Takuzu is by far one of the simplest in the logic puzzle congregation, and likely has room for a couple of twists and turns. Even the 10x10 grids here will quickly stop offering challenge. However, they continue to provide a calm, methodical task, which is often all a good person wants from their puzzling.
It's all free, and plays with no fuss. Take a look.