Okami HD splashes onto PC
With a Dota 2 courier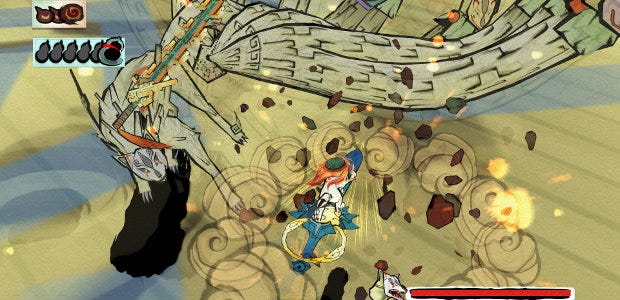 The list of games I feel I've dearly missed by skipping most consoles isn't long, and it grows shorter all the time as classics are ported to PC. The latest venerated console game to come our way is Okami, Clover Studio's 2006 game about a sun goddess incarnated as a wolf to save the land from darkness with her magical ink brush, launched last night. Now named Okami HD, it's not majorly rebuilt but it is a bit prettier and hey it's on PC so good, great, wonderful.
Oh, and you'll get a snazzy Dota 2 courier skin too.
Okami explores a mythological historical Japan where demons are up to no good and the sun goddess Amaterasu has come to stop them as white wolf. It's an action-adventure game with fights, quests, stats, dogs, and elemental magic with to the ink brush, which has players draw on the screen to cast spells.
I've not played it yet but heard many good things from folks over the years. Okami first hit PlayStation 2 in 2006, then has been updated and ported across several other consoles since. I suppose I might see for myself now.
This edition boasts keyboard and mouse support and brings back the loading screen minigames that had been removed from earlier re-releases, which is nice. On the technotrouble side, some folks are having trouble getting their controllers working and yep, the framerate is capped at 30fps but mate, it's still Okami.
Capcom dissolved Clover Studio, who also made Viewtiful Joe and God Hand, six months after launching Okami. A number of key Clover members later founded PlatinumGames, the studio who have made wonderful games including Bayonetta and Nier: Automata.
Okami HD is £16/€20/$20 on Steam. Buy it before January 15, 2018 and you'll also get a little Amaterasu to serve you as a courier in Dota 2.