Okay, So Oknytt Is Not Knytt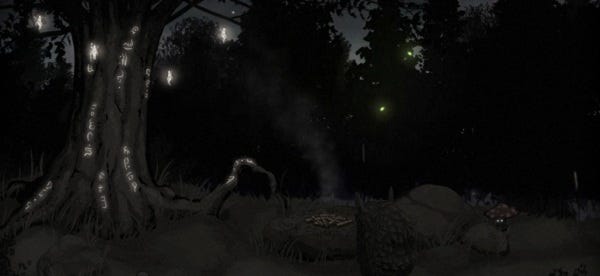 Knytt is a splendid 2d game of exploration and discovery, in which a tiny creature runs and jumps all over an alien planet. Oknytt is not. So what is it? "Oknytt is a point-and-click adventure game where the player takes the role of a small, seemingly insignificant creature, leading it through a dark world riddled with obstacles to help it find a place to belong. The game takes place in a Norse medieval world and contains a number of beings and areas inspired by Swedish folklore." Rather than picking things up and using them, the dinky critter has four runes which bring about changes in the environment. Experimenting with their effects in each area is the only way to advance. Look! A video.
I'm not quite sure whether to expect whimsy or worrying weirdness. Perhaps both, as is often the case when creatures and themes are extracted from the lore of folk.