Old School Vs. New School: Battle Of Gaming's Elite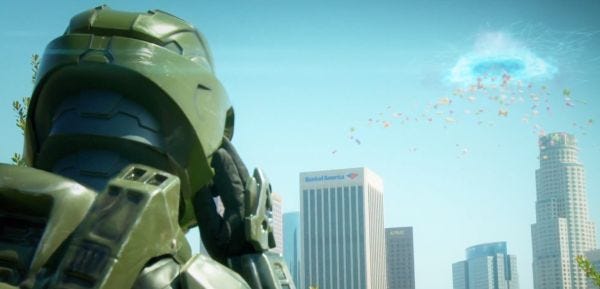 Remember the days when amateur YouTubers couldn't make cinema-quality special effects in their spare rooms? Yes, me too. It was last week. And now suddenly it seems to be within the grasp of a wonderful number of talented people to craft the sorts of short films that would previously have cost literally millions to produce. And today's best one (well, it's actually six days old) is Old School Vs. New School by Rocket Jump and Freddie Wong, an extraordinary video pitching modern day videogame characters against arcade classics of the 70s and 80s.
The likes of Lara and the Master Chief are played by cosplayers flown in, apparently at Internet Explorer's expense. (My impression of Internet Explorer: "Like us! Please like us! Look who we're hanging out with! Do you like us now?" My impression of everyone in the whole world: "Who are you? Go back to your retirement home with Netscape.") The likes of Asteroids and Space Invaders are played by utterly magnificent CGI. They fight. Who will win?
Definitely check out the rest of Freddie Wong's videos.