Organism Grinder: Nowhere Is Evolving
Abstract life sim alpha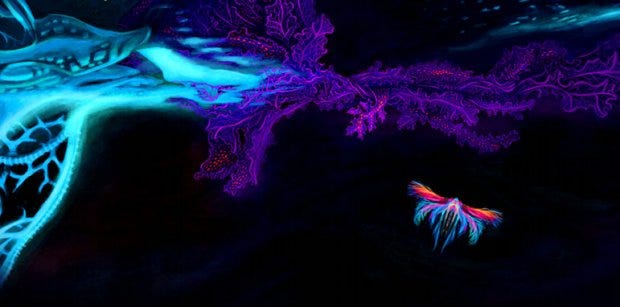 Nowhere, as Jim noted, is conceptually staggering. It's a life sim with a cast of procedurally generated abstract organisms, which grown to 800 metres in diameter. They can contain other creatures within their cavities and hollows. Indeed, they can contain entire societies. The latest alpha release contains the first iteration of the creature generation software, allowing players to explore three entities, which represent the same lifeform at different stages of its existence.
If all that sounds distractingly odd, let it also be known that you explore the gargantuan creatures by means of a grappling hook. Video below.
OK, so it's more of an energy tether than a grappling hook but close enough.
Husband and wife team Duangle are seeking cash so that development can continue at a steady rate. They have just less than a thousand alpha buyers so far and only 16% of their desired funding, but updates are regular, the blog is a interesting read and the game is seeking Greenlight attention.
Watch the initial pitch in Jim's post if you haven't already. It's a powerful tonic.