Experience Double Undeath In Over My Dead Body
I'm up for that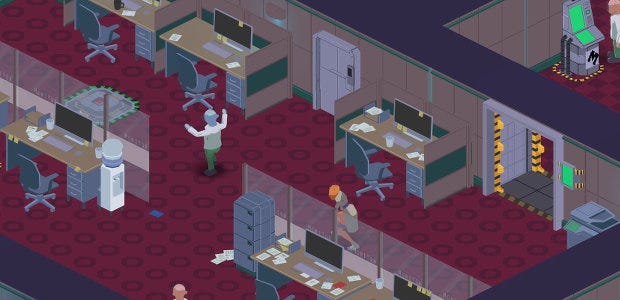 I hope I become a skellington after I die. Being a zombie is pointless (barring iZombie magibrains) and being a ghost is sad, but skellingtons are always laughing and larking about. However, apparently one can become both a ghost and a zombie?
That's what happens to Noelle Brody in Over My Dead Body (For You) [official site], the newly-announced commercial follow-up to a fun free action-puzzler from 2014. It'll send us off on a merry murderous adventure through the megacorp which did this to her, controlling her zombie and ghost on different thumbsticks (or keys).
An experiment at Mortiga Consolidated goes wrong, see, leading to Noelle contracting Double Undeath. As she searches for a cure, her ghost and zombie have different powers - ghosts obviously being better at sneaking and distracting, and zombies at... ravenously devouring their former co-workers. But look, it's all colourful, it's fine.
This commercial follow-up is expanded with more levels and challenges modes. Developers Duneworld Games plan to launch it this autumn for Windows and Mac priced at $9.99. First, they're going through Steam Greenlight.
You can still play the original free game through Game Jolt, if you want to get a feel for what it's about. And here's the follow-up's announcement trailer: