Pan-Pan Looks to Be A Charming Puzzle Adventure
From Might & Delight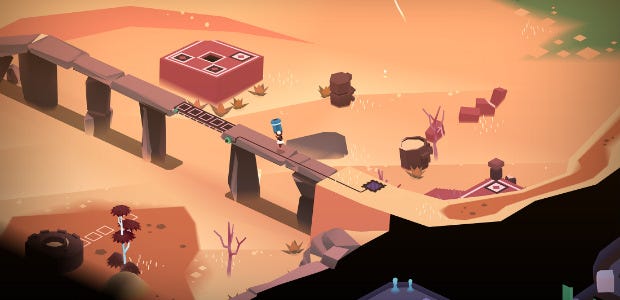 Pan-Pan [official site] could very well be the perfect light and breezy end to the lazy summer months--it's got a colorful open world and oodles of atmosphere, all set off with an ambient soundtrack reminiscent of something you'd hear at the planetarium. Pan-Pan is a collaboration between publisher Might and Delight and Swedish developer Spelkraft (Emil Berner to some). Might and Delight has created a number of games in delightful environments, and Pan-Pan looks to be following in that tradition.
You're tasked with repairing your crashed spaceship and making your way back home. Pan-Pan's rich, geometric world encourages exploration, the story unfolding as you interact with the surrounding landscape. The game also aims to challenge players with a series of riddles that can be solved using gizmos and gadgets along with a helping of your own gumption.
The very chill, space-y soundtrack is composed by Swedish artist Simon Viklund, whose work also appeared in games including Bionic Commando Rearmed and the Payday series. Might and Delight's own previous work includes Shelter, a game about loss, love, and survival as you play mother to a litter of badger kits.
Pan-Pan launches on Steam on August 25, and you'll be able to grab it for £9.99/€12.99/$12.99. You can check out the perfectly pleasant gameplay trailer below: