Dinn Roamin': Papers Please Dev's New Game Has A Demo
Release of the Return of the Obra Dinn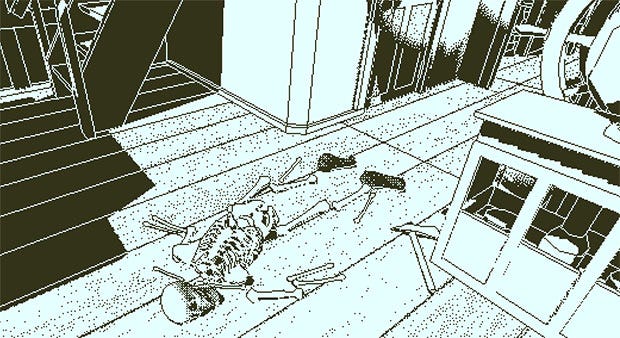 This is a pleasant surprise: Lucas Pope, he of the wildly acclaimed, extremely well-observed and reliably gut-wrenching Papers, Please, has snuck out a free demo of his next game. First person sort-of-adventure Return of the Obra Dinn has a somehow both retro and hyper-modern 1-bit art style (which looks a bit like a dot matrix printer was fed green paper), and concerns a Marie Celeste-style naval mystery. It's TBC whether this too will make one lose all faith in humanity.

I've not had a chance to play the demo yet, but thought you fine folks should know about it immediately. I may follow up with thoughts later on, once my other infinite writings are completed. Here's Pope's summary of the game, however:
In 1802, the merchant ship "Obra Dinn" set out from London for the Orient with over 200 tons of trade goods. Six months later it hadn't met its rendezvous point at the Cape of Good Hope and was declared lost at sea.

Early this morning of October 14th, 1808, the Obra Dinn drifted into port with sails damaged and no visible crew. As insurance adjustor for the East India Company's London Office, find means to board the ship and recover the Crew Muster Roll book for assessment.
Pope advises that the demo "is a very early playable build. There's not much content and it hasn't been tested." There's also no save function.
With all that in mind, here you go.