Free Forest: Existential Wandering In Peregrin
A pretty, quiet free game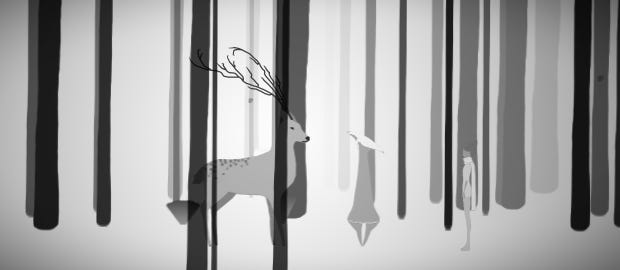 Hey, it's okay. Take a breath. You're all right. Or you're here, anyway. You're here, and soon you can be wandering an infinite forest. Who could ask for more?
Peregrin [official site] is an existential but pleasant free browser-based game with a quiet tone. We play a mystery person wandering a monochromatic forest, chatting with masked pilgrims, petting stoic deer and scaring off birds, and forever walking onwards towards an unknown goal. That's just the sort of ambivalent acceptance and quiet awe I need on a Tuesday afternoon.
It's beautiful. The greyscale forest is filled with delicate trees, deer (sometimes with birds perched on their antlers), pots, falling leaves, buzzing flies, caravans, and those enigmatic pilgrims. Some are excited, eager to eat perch, play in leaves, dance, and listen to stories. Others are weary, wondering if it'll ever end, and wishing you'd leave them alone.
The journey can have an end, if you want, though it might take a while - and some backtracking - to discover.
You can play Peregrin for free in your browser or download it for Windows, Mac, and Linux. Be sure to play in fullscreen - access the menu by pressing space.
I missed Peregrin when creator Aeryne Wright made it during in the Procedural Generation Jam last November, so thank you to the lovely Forest Ambassador for pointing it out.