PES 2012: This Year, Feet Meet Balls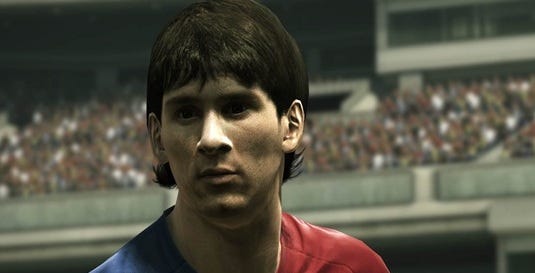 Like a whisper on the breeze or a particularly quiet spectre, the foot-to-ball season has begun once more. Of course, the quiet clamour of millionaires hoofing calfpelts is often drowned out by more mundane matters such as collapsing regimes and a crumbling global economy. That's a joke of course. The global economy has crumbled. It is constituted entirely of crumbs. But, to return to the point at hand, the silly season is upon us and not enough people are repeatedly telling you that. Konami shall be honouring this glorious occasion with the release of PES 2012. There will be demos available very soon. That's right. Demos. Plural. Excited? Read on!
OK, so it's two demos. The least amount of plural you can get. The first will be available tomorrow and is based on a preview build. Konami promise that the second demo, which is due mid-September, will reflect the final version's feel and gameplay. One is tempted to suspect it will feel like engaging in a leisurely pursuit while firmly entrenched in a chair of your own choice. Whether you approve of this is entirely up to you.
So, what's new? Some sportspersons have moved from one place to another. Konami will no doubt move them to those exact places in the game as well. There is also the promise of realistic 'Active AI'. Presumably, this means balls will be more effectively shuttled around the court of play. There's also a new 'Teammate Control' mechanism. That may be because the 'Active AI' is not quite good enough to control the team by itself. The demo shall no doubt reveal all. Although maybe not the first demo, which is unfinished and thus possibly flawed, but definitely the second one. Apparently.
Is anybody thrilled about this? Can PES regain the foot-to-ball crown from FIFA? And, more importantly, will Konami have programmed Rooney's new hair correctly? The entire situation is heavy with import.