Pinball FX3 is multiplayer-focused and coming soon
Flipper Wars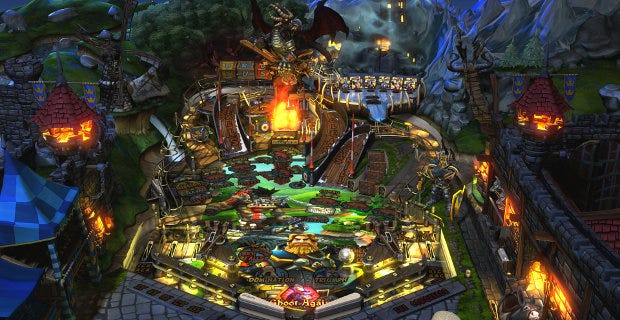 Pinball purveyors Zen Studios have announced Pinball FX3 [official site] for Steam and Windows 10. It will apparently "redefine the console and PC digital pinball experience" by making it competitive and community-driven. No pinball player is an island. Take a look at the announcement trailer below.
Along with a bunch of single-player modes and challenges, FX3 will let players create their own tournaments, duke it out in multiplayer matches and try their hand at constantly refreshing score-based objectives.
"Pinball FX3 is a milestone step forward for players on console and PC, and I am excited that many of our new features are suggestions from the community," says Mel Kirk, VP of publishing. "We remain 100 percent committed to providing our players with an exceptional value, allowing them to bring their collection forward with them as we can all enjoy a host of new features and upgrades together from day one."
Returning tables have received a graphical update, and three new tables from a new IP partner -- to be announced at a later date -- will make their way into the game. Conveniently, the majority of purchases made in Pinball FX2 and Zen Pinball 2 will also transfer over to FX3.
The last game received over 30 bits of DLC, ranging from Star Wars packs to tables inspired by Marvel heroes and villains. Here's what our pinball wizard Adam thought of the Bethesda pack last year:
These aren't the worst of the Pinball FX2 tables by any means, and prolonged time with DOOM might even show it to be one of the best, but as a bundle of three, they're…frustrating is the word I'm looking for. Frustrating because the idea of taking a big RPG and making a pinball table that carries over some of its qualities in mechanics as well as art and sound is brilliant. I suspect they'd need to escape the confines of a single table and such a basic ruleset to succeed though – an entire pinball game based around Fallout, with separate tables for factions and areas? Now, that might work.
Zen Studios have yet to announce a release date, but it's coming soon. You can sign up for the closed beta here.