Placebo FX: House M.D. Demo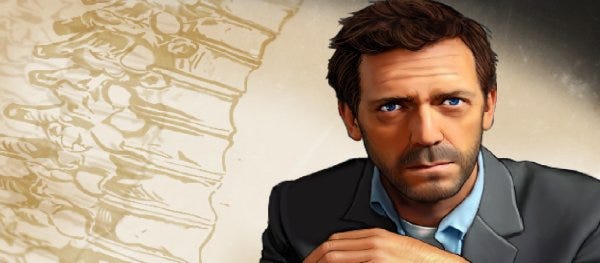 There's something about a lonely sociopathic drug-addict being the lead character in one of the most popular TV shows in the world that puts a spring in my step. I can never quite get enough of that acerbic patter and underlying existential horror. So you can imagine I leaped at the House M.D. demo. Unsurprisingly, it turns out to be a lo-fi point 'n' click puzzler punctuated with quips that are as insulting as the actual TV dialogue, without the charming delivery. Pretty much everything is in place, apart from the misdirection in the opening illness scene, with the differential diagnosis and various icky medical procedures all laid out for you in the predictable structure of one of the TV episodes. I can't really recommend anyone download it or anything like that, but the hour-long demo exists just here if you do want to examine swollen pixels on a low-res 50-something Caucasian male.
Trailer below. "No-one is immune from Dr. House's biting zingers!" Quite.