Planetary Reformation: Terraform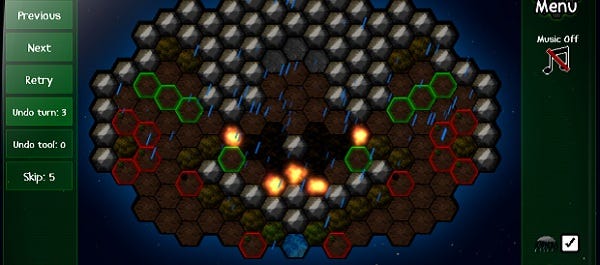 Turn-based indie puzzler Terraform is about doing a job to the specifications of an employer. Now, if that job involved being an obsessive-compulsive lady dashing around a diner I wouldn't be particularly excited but the clue is in the title; Terraform is about reconfiguring planets, whether by growing forests and forming oceans or setting off meteorological chain reactions that can alter everything in a single turn. It's essentially a tile-flipping game but the theme is strong and the eventual complexity of the components, particularly the weather effects. There's a demo available to download, an older version to play online and the full game is due next month.
It's a clever game that reminds me of Doodle God and Sim Earth as much as anything. Even though it doesn't really play like either, the combinations that lead to the discovery of new tile types and the overall theme bring such world-building memories to mind.
I'd heard nothing about it until I visited indieDB this morning and found some details and I then proceeded to spend far too much time with it instead of looking at Max Payne 3 screenshots, which is clearly what everyone who writes about games should be doing all day long.