Plant Tycoon: A Not-Late-To-The-Party Encounter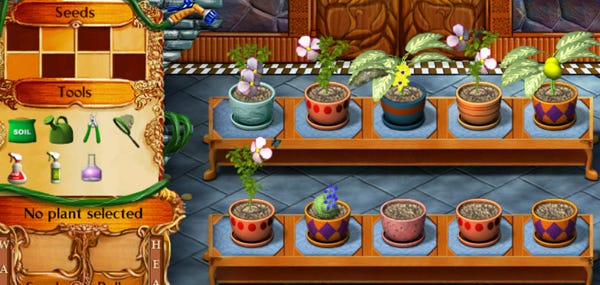 With my finger firmly on the pulse as I am when it comes to pop culture and/or videogames, I am currently ensconced in the world of Plant Tycoon [official site].
Plant Tycoon is about eight years old on PC, older on Palm OS, and came up as part of my quest to find a relaxing gardening game I can run in the background while working. Mostly what I want is a lovely-looking handful of plants which sometimes require me to snip off dead leaves, or maybe I could dust their leaves, or give them a splash of water.
It's not really about the actual gardening, exactly. I hate gardening. What it's about it providing a gradually changing aesthetic which I have a limited influence over and which I can stare at while stressed about an email or grumpy when a feature isn't flowing. Essentially, I want a way of utilising my second screen so it can provide a mood boost rather than just housing Twitter.
Plant Tycoon was likely not going to be that but it was appealing on the aesthetic front. Not for its menus or interface - the main screen is a set of greenhouse work benches with predefined plant pot spaces. You fill those pots with soil, water them a bit and then add a seed.
What I'm more interested in is that you can cross-pollinate the plants to produce new species of increaasing value and with increasingly demanding and expensive lifestyles (or whatever you call their nutrient demands and general upkeep requirements). I like the shapes of these seeds, and I like the surprise you get when rearing one of these mystery hybrids for the first time. There's also a relatively simple genetic inheritance element at play if you want to pay attention to it.
Plant Tycoon is a bigger, better version of the thrill I used to get in Pocket Frogs when trying to produce little hopping collections of pixels with the right patterns and the right colouration. I got cross with Pocket Frogs because it began to feel unmanageable. The idea of completing it started to feel like a lifetime's work and I do (sometimes) have better things to do with my life.
There are 529 kinds of plant here so it ought to keep me going for a while but there is, ultimately, an end point. It's a different beast from the gardening quest, though. More like a second job and a satisfying time sink than a mood lifter. Apart from where I keep forgetting time passes even when you don't have the game open and I come back to a dead greenhouse. Then it's a bit less satisfying and a bit more OH GOD IT IS ALL DEAD AGAIN.
In an ideal world my quest would lead me to a game/desktop companion which took the slow, guided development of actual gardening, married it with the highly stylised plant aesthetic of My Organic Garden and added the almost-white-noisey-weather sounds and chimes of Mountain.
The quest continues.