Please Welcome In The Second Guest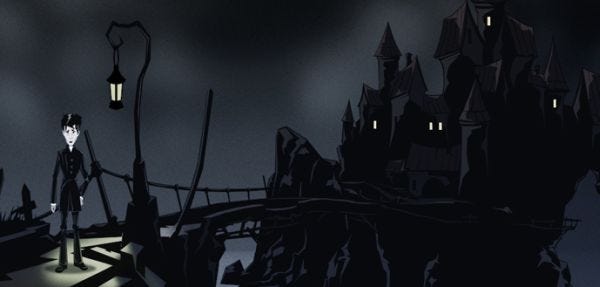 Here's something. Some of the people behind the almost great The Whispered World are working on an independent episodic point-n-click adventure series to start being released this Autumn. The Second Guest is a joint effort between German indies Twice Effect, and Head Up Games, who have previously published Super Meat Boy and Twin Sector. Described as being inspired by the art of Tim Burton, it's said to be a comedy adventure series, with each episode standing alone as well as making up a greater five-part tale.
It's sent in London, 1923, playing as a student called Jack Ice. He,
"receives a mysterious telegraph in which he is invited to an opening of will at the old Grace Castle. Thing is: Jack did not even know the deceased Lord Averton… However, Jack sets out – although slightly irritated - to Little Grace, a small village on the east coast of Cornwall. After he and the other heirs have arrived at the castle it becomes more and more a scary certainty that the old Lord was murdered. And even worse: the murderer now targets all the heirs. Shortly after the arrival of the heirs a violent thunderstorm breaks and the castle gets cut off from the outside world by a landslide, Jack has no choice but to get to the bottom of things. If he and the others want to survive this night, he will have to reveal the mystery about Grace Castle and also a big mystery about his own past."
What we have so far is a useless teaser trailer, and the blob of art at the top of the post, and that's it. But it's still a way off, the first two parts set for Halloween this year. Whether the title is a play on the horrendous The Seventh Guest is not yet known. The following teaser is a good example of why no one ever should try to do an impression of that cinema guy: