Pokémon developers Game Freak announce their new action-adventure IP with vague concept art
Private Division are publishing Project Bloom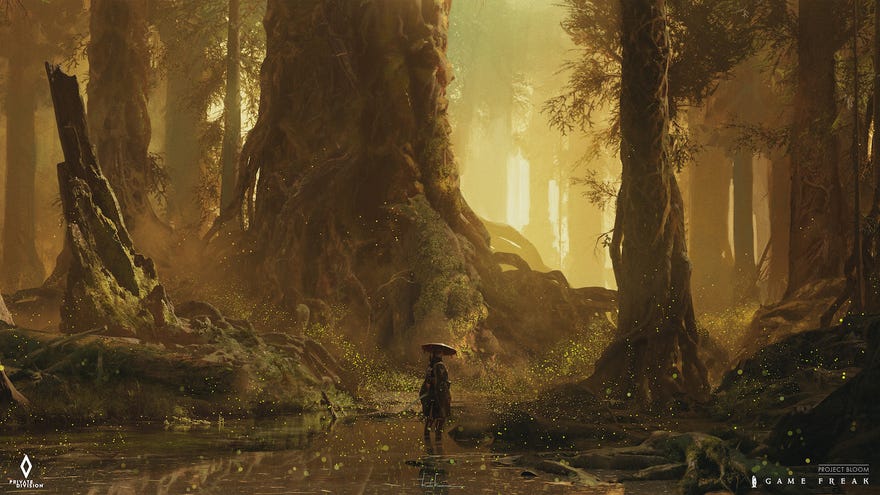 Take-Two's "indie" publishing label Private Division have announced a partnership with Game Freak, the long-standing studio behind every mainline Pokémon game, plus a few extras. Details are scarce, but the pair are working on a brand new action-adventure IP codenamed Project Bloom. We've been teased with a single piece of concept art that shows off a brooding character dressed in traditional Japanese clothing, contemplating something in a very dreamy forest.
"We're thrilled to have the opportunity to create new IP that is bold and tonally different from our prior work," said Game Freak director Kota Furushima. "Private Division was the publisher we wanted to work with on our new game. Their track record and global expertise give us all the confidence to create a sweeping new action-adventure game."
Head of Private Division Michael Worosz had similarly nice things to say about the developer: "Over the past three decades, you'd be hard-pressed to find a studio which has released more iconic hits than Game Freak… We're ready to help Game Freak unleash their potential."
Outside of the now controversial Pokémon games, Game Freak have squeezed out quite a few decent titles, some of them on PC. My personal favourite was Tembo The Badass Elephant, a side-scrolling platformer about - well - a badass elephant who smashes through the environment and shoots water from his trunk. Their other monster-battling RPG Little Town Hero is also on Steam, although that one fared slightly worse in terms of reception. (I'm also now realising Game Freak have a knack for very literal titles; maybe Project Bloom will evolve into Moody Forest Dwellers.)
Project Bloom has a notably moodier tone compared to the team's past work if the initial concept art is anything to go on. Either way, the game is still "in early development" and won't launch until Take-Two's fiscal year 2026. So, we can gawk at the concept art for a few years, or (more likely) we can forget it ever existed until they eventually re-announce it.