Pokémon-esque Heartbeat launches September 14th, demo available now
Battle with heart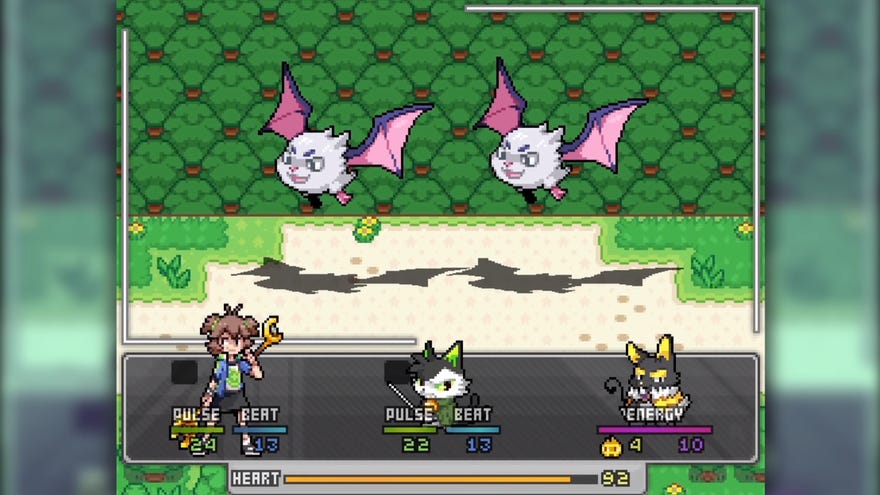 Upcoming creature-battling RPG Heartbeat has immediately piqued my interest, and not just because I'm pining after a new Pokémon game. Everything from its character designs to its promise that I can raise a magical baby moth seems right up my alley. It launches on Friday the 14th of September, and you can take a look at the utterly adorable trailer below:
The first and most important thing that I notice is that, unlike Pokémon, the animal-like inhabitants of this world, called Mogwai, seem to be able to talk. There's also a lot of chatter about ancient secrets, a world full of magic, and fishing mini games, all of which sound great, but I'm pretty sure I'm going to be spending most of my time chatting with my kitty companion.
The kitty – whose name is Klein – isn't just for providing company or help in battles, either. Being small, they can fit into spaces where your protagonist, Eve, cannot, which will open up new areas. According to the game's description, many companions have skills like these which will help you to uncover the world's many secrets.
There's also a demo available now, and not only will you be able to transfer your save to the full game when it launches, it provides special bonuses as well. I've played the first few minutes and it serves as a great introduction to the funny dialogue, catchy music, and combat system. The latter uses the power of HEART, leaning into the power of friendship theme between humans and Mogwai, and it's all very endearing. And rather than being a straight up Pokémon fan-game (which might have been severely stymied by Nintendo shutting down the Essentials tool) Heartbeat feels like it borrows from the genre but puts its own unique spin on most aspects.
You can find out more about Heartbeat and download the demo on its itch.io page. The game is slated to cost $10 when it releases on September 14th.