Prey: Mooncrash adds free paranoid multiplayer and VR escape rooms next week
It's just better in blood like the surest old sun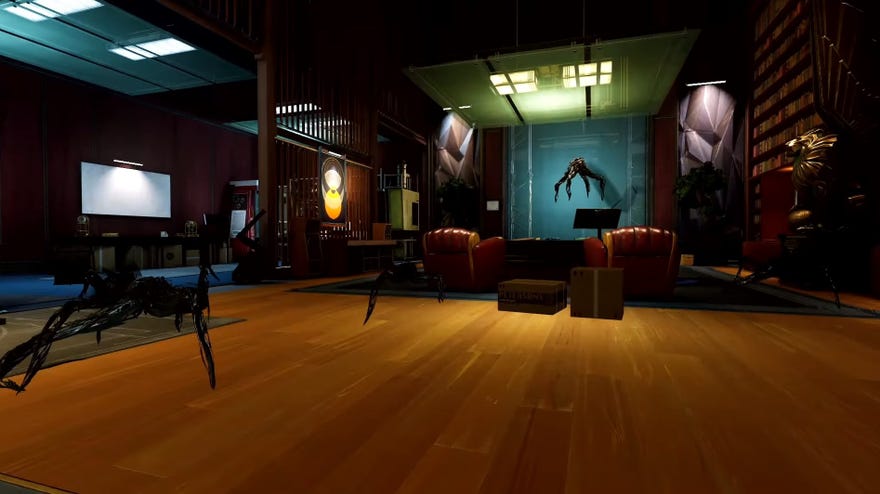 The deadliest multiplayer game of all - hide and seek - is coming to excellent Prey expansion Mooncrash next week, free. Typhon Hunter was announced when Mooncrash launched, and sounds a lot like Prop Hunt, a mode big with the Garrys Mod and Team Fortress 2 scenes. Six players, one as an increasingly paranoid human and the other five as shapeshifting Mimics waiting for a chance to pounce. It'll be a free update next Tuesday, December 11th for anyone with the Mooncrash expansion, along with a VR escape room mode. That's a trailer below, not a mimic - promise.
While I doubt Typhon Hunter will stay well populated for long (Mooncrash, much as I loved it, was a niche within a niche), I'm eager to jump in with friends. Until now, Prey has been a solitary, paranoid experience, and cribbing from Prop Hunt for the multiplayer is a brilliant decision. The paranoia retained, and every player's mad flailing at random, vaguely suspicious looking objects will now be seen and exploited by others. Prey has already conditioned its players well, so barring any technical foibles, it won't take people long to get the hang of the multiplayer.
I lack the funds at the moment for a VR headset (anyone want to buy me one? No? Okay), so I'm just going to have to be jealous of those with fancy space-goggles. Launching alongside the Typhon Hunter mode is Transtar VR, a single-player escape room set before the events of Prey, with multiple maps. There's also a VR museum tour, letting you poke around the guts of Prey's setting, and looking at some Typhon creatures up close. Also coming in a 2019 update is Typhon Hunter VR, for people who won't just die instantly when a horrible alien shadow-spider jumps at their face.
The trailer also reminds me that while Prey's soundtrack was mostly ambient background, it occasionally ramped up into some real bangers. This one always brought murder to the dance floor. Given that the karaoke bar is one of the locations in Typhon Hunter, we might even be hearing it mid-match.
Typhon Hunter and Transtar VR launch as a free update to Mooncrash next Tuesday, December 11th. Not got Mooncrash yet because you heard it was just some little roguelike challenge mode? Read John's glowing review here and stand corrected. It's £13/€20/$20 on Steam and Humble, though undoubtedly going cheaper in the upcoming sales. Read more about the new modes on the official page here.