Pull Shapes: Dancewall Remix Wants To Judge Your Moves
Murder on the dancewall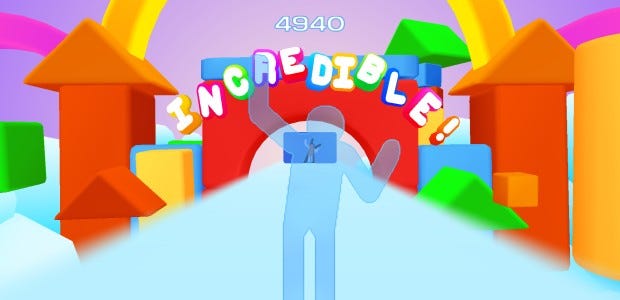 Dancewall Remix is one-part Japanese game show, one part Kieron's ghost. The former because it's about fitting your form through the human-shaped holes in oncoming walls, albeit incorporeal ones. The latter because it's about striking poses and pulling shapes in front of your computer. It does the latter using your webcam to track your movements, and it's up on Steam Greenlight now. Check out the faintly terrifying trailer below.


The game was originally developed for ASUS 3D cameras, but now works with any webcam you have connected to your machine. I don't have one of those either, but I have spent fun times at various house parties throwing shapes in front of Kinect dance games. It's nice that there's more of this stuff coming to PC. Dancewall Remix can't quite do the fancy work of tracking your fancy footwork, so its scoring is based on your ability to form static poses.
Why do I find the trailer terrifying? It's not like I'm not already pulling shapes in front of my computer all day. Instead, it's the thought of being trapped in its default primary colour world, with rainbows and giant squid and too much happiness. I don't have that much joy in my heart to give; it's mostly just Babybel's in there. If I don't get the shapes right, if I get tired, will Bertie Bassett and the Happiness Patrol come round and take me away?
Thankfully there's also disco and retro world to pose your way through.
Check out more screenshots on the game's Steam Greenlight page.