Redfall: PC performance, system requirements and best settings guide
Trying in vein
You've probably head by now that Redfall is a few virgins short of a vampy picnic, mainly by un-virtue of its undercooked co-operative cryptid blasting. But there are plenty of PC performance problems to contend with as well, despite it getting a helping hand from DLSS and FSR 2.1.
Like the previous Iffy PC Port of the Week, Star Wars Jedi: Survivor, Redfall's issues are many and diverse, with bugged out graphics options and framerate inconsistencies that made this one of the trickier best settings guides I've cobbled together. Said guide should still bump up your average FPS compared to Redfall's graphical presets, and with only a few changes, though without some meaty post-launch patches there's not much that can be done about its wildly oscillating performance. Even on the absolute best graphics cards.
---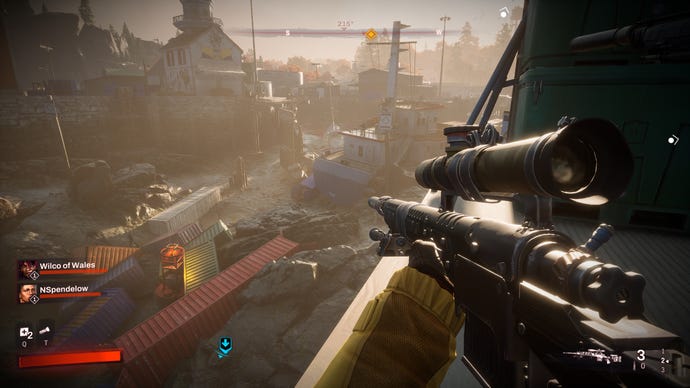 Redfall system requirements and PC performance
Redfall's official specs are on the higher side, though also nothing too extravagant by contemporary AAA standards. The biggest ask is perhaps that 100GB storage requirement, especially since the finished installation only accounts for a smidge over 77GB. Still, at least it's not Jedi: Survivor and its SSD-smothering 155GB requirement.
Redfall minimum specs
GPU: AMD Radeon RX 580 / Nvidia GeForce GTX 1070
VRAM: 6GB
CPU: AMD Ryzen 5 1600 / Intel Core i5-8400
RAM: 16GB
OS: Windows 10
Storage: 100GB
Redfall recommended specs
GPU: AMD Radeon RX 5700 / Nvidia GeForce RTX 2080 / Intel Arc
VRAM: 8GB
CPU: AMD Ryzen 7 2700X / Intel Core i7-9700K
RAM: 16GB
OS: Windows 10
Storage: 100GB
Redfall ultra specs
GPU: AMD Radeon RX 6800 XT / Nvidia GeForce RTX 3080
VRAM: 10GB
CPU: AMD Ryzen 7 2700X / Intel Core i7-9700K
RAM: 32GB
OS: Windows 11
Storage: 100GB
Unfortunately, it doesn't matter if you're scraping by on minimum specifications or wielding a four-figure luxury rig: Redfall will not run consistently. While even lower-rated cards can clear 60fps for much of the time, with 100fps+ a possibility for superior GPU and CPU combinations, performance will rarely stay at that level for long, with framerate drops of 50% (or more) common when exploring certain parts of Redfall's two maps. And those are just the sustained drops, with momentary stutters capable of dropping a 110fps average down to below 20fps for a second or two.
This lack of FPS steadiness makes benchmarking Redfall an awkward prospect, so for all my tests, I settled on an all-in-one approach that involved traversing both an easygoing stretch of wilderness and a more built-up neighbourhood that would test hardware to its limits. My test rig, as usual, included 16GB of RAM and an Intel Core i5-11600K CPU, which is typically level with or slightly faster than the recommended specs' Core i7-9700K in games.
The good news is that even with these massive framerate drops, the minimum specs are likely reliable; when sticking to 1080p and the Low quality preset, the GTX 1070 averaged 80fps. This preset turns anti-aliasing off by default, but adding TAA on its High setting didn't hurt, even nudging it upwards to 81fps. Medium quality, plus High TAA, also averaged 61fps, with visibly lower yet playable framerates in the town area.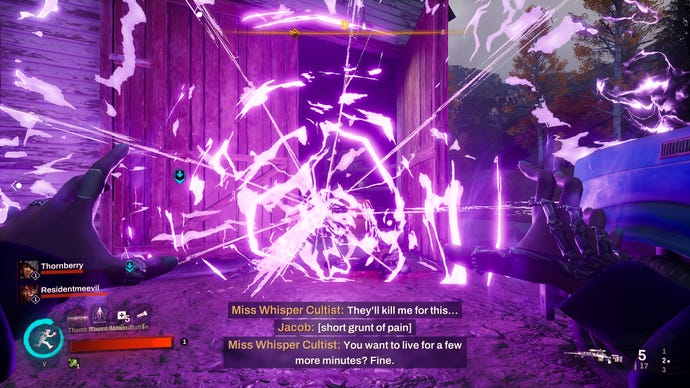 Up among the recommended specs, "Intel Arc" is left vague, though both the Arc A750 and Arc 770 should handle 1080p. I tested the lower-specced A750, and averaged 61fps on High quality. For 1440p, however, I wouldn't go lower than something like an RTX 3070. This produced 53fps on Epic quality, which meant it was only just about staying above 30fps in the town, though Quality-level DLSS could get that average up to 63fps with no other changes.
The RTX 3070 could also do a not-terrible job at 4K, averaging 65fps with Medium quality and DLSS on Performance mode. Even so, the mightier, more recent RTX 4070 Ti would be a better choice at this resolution, especially since Redfall supports DLSS 3 and its AI frame generation. This can double performance with the right settings, boosting the Epic preset's 54fps at native rez to 110fps with upscaling and frame generation on. "You just need one of the most expensive graphics cards on the market" admittedly isn't ideal consumer advice, but DLSS 3 – which is exclusive to RTX 40 series GPUs – was the most effective out of anything at covering over Redfall's dipping issues.
Alas, even such opulent hardware can't fix them entirely. And although FPS drops and stuttering are the worst of Redfall's problems, they're far from the only ones. The 'Interact' input sometimes fails for no apparent reason. Animations break repeatedly, leaving co-op partners lodged halfway into the ground or frozen in gun-holding poses (sans the gun). Scenery is easy to get stuck in. Alt-tabbing in Fullscreen mode runs an uncomfortably high risk of crashing. Shadows sometimes flicker, even on Epic quality. And some textures have the worst pop-in I've seen in from a big budget PC game in ages, often allowing for several seconds of point-blank staring before they unpixellize.
The HUD seems especially bug-prone as well. I've seen experienced teammates shown as level 1 newbies, as well as an objective progress bar getting stuck at 5%, with the laughable workaround of going all the way into the pause menu's Missions screen for an update on how it's actually progressing. Also, while it's not technically a bug or glitch, I feel like this maybe isn't the best way to list thumb mouse buttons when they've been binded to hero powers: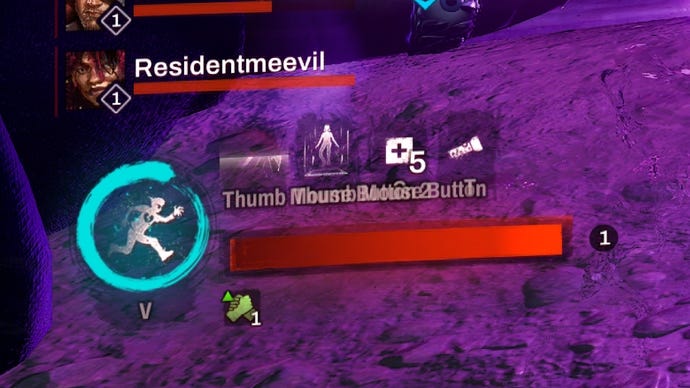 Also also, the pause menu doesn't pause when playing singleplayer. What's up with that.
I'm working on a separate performance report for Redfall on the Steam Deck, but in short: it's playable, so long as you can endure occasional dips below 30fps. Sticking mostly to Low settings and enabling FSR 2.1 on Performance mode will keep it smooth enough for the most part, though as on desktop, certain parts of the two maps will chug in comparison. Thumbstick controls feel unwieldly by default, too, so head into the Controller menu and set Input Response Preset to Low to make aiming easier.
---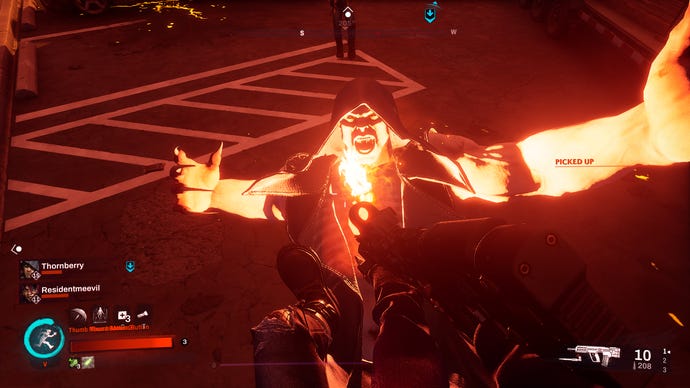 Redfall best settings guide
There's one more technical snag to get caught on when navigating Redfall's graphics settings: they're broken.
Sometimes they're broken in a relatively benign way, like how switching from a preset to a custom configuration will force anti-aliasing off, requiring one more trip back into the settings to re-enable it. Sometimes, though, it's downright vexing. Here's an example: remember how the RTX 3070 averaged 53fps when using the Epic preset at 1440p? By simply reducing Shadow quality to Medium, that result leaps up to 72fps. A 36% improvement! Amazing! But then when I also lowered Texture quality to Medium, it only averaged 66fps – slower than with Epic quality textures, and indeed slower than the Medium preset, which produced 69fps on the same GPU and resolution. It's the same for Foliage Quality, Shading Quality, and View Distance Quality as well: these all deliver huge performance boosts when lowered by themselves, but contribute far less when part of a wider-spanning custom selection.
I know this might sound like inattentive benchmarking on my part but I swear on my favourite Philips head screwdriver, I have spent over a day experimenting with these settings, on the public release build and with fully updated drivers, and the lack of rhyme or reason to their respective performance impacts is truly singular. As such, I don't think there's much value in the usual approach of going through every settings and listing their potential FPS gains when lowered – the majority of them are simply too erratic in the results they produce. Instead, let's just skip to a settings combo I do recommend, and is fairly reliable in its ability to bring up average performance and cushion against those nasty drops.
Motion Blur Scale: Off
Foliage Quality: Medium
Upscaling: DLSS Quality (or FSR 2.1 Quality on non-RTX GPUs)
Everything else: Epic
This looks like a modest set of changes, and it is, but the 79fps it put out on my RTX 3070/1440p setup represents a slick 49% speed enhancement compared to native-rez Epic. Yes, that is drastically faster than using all Low settings, and no, I don't understand why either. But it works, in a sense. The only other addition I'd definitely make would be to throw in frame generation on RTX 40 graphics cards that support DLSS 3, which the RTX 3070 doesn't.
Since lowering one of the eight quality settings magically performs better than lowering a bunch of them, I went for Foliage Quality as it produced the best result when tuned down individually: 74fps. The extra 5fps therefore comes from ditching Motion Blur and DLSS Quality mode, which isn't actually a great showing for the latter's upscaling component. However, DLSS's built-in anti-aliasing looks better than the TAA and FXAA alternatives, so it's worth enabling regardless.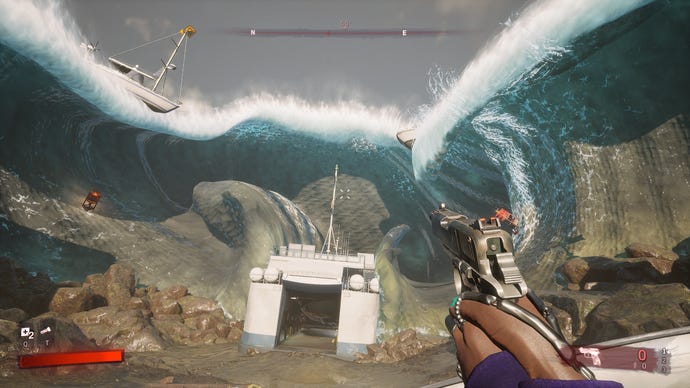 Those with AMD, Intel, or older Nvidia cards can instead use FSR 2.1. It's not quite as sharp as DLSS, especially in motion, but is slightly better with fine details than the third and final upscaling option of Intel XeSS.
I guess the relevancy of this guide could change quite dramatically, depending on the content and efficacy of future patches, but whereas EA were promising Jedi: Survivor fixes before launch day, Arkane and Bethesda have been quiet so far on Redfall's update plans. In the meantime, I suggest making its aforementioned brokeness work in your favour, by claiming some chunky performance gains with only a handful of settings tweaks. Nowt I can do about the rest of it, mind. Sorry.