Reich Here, Reich Now: Reich Footage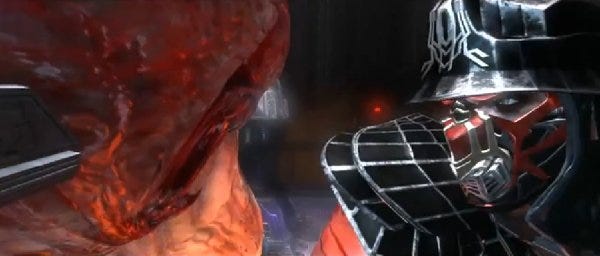 A corpse has surfaced on the choppy waters of manshoot lagoon. Ignition's multi-million dollar sci-fi Nazi-infused FPS, Reich, was cancelled last week. Ignition's London studio was shut down back in September, and then the game was permanenty lost when the bigger Florida studio closed its doors last week. According to GI.biz's insider source, "A slice of the game revealed a [review] rating of 5.0 instead of the desired rating of 8.5."
But those years of work and millions of dollars haven't all gone to waste, because Ignition has released not one, not two, but FIVE videos of Reich. You can watch them below.

The first is just a cutscene, but the rest are more interesting. There are some curious and occasionally incomprehensible experiments with physics going on here.
This last one is the one you want to watch, I suspect. It's got a zepplin'in.
Poor space-Nazis. I think if I'd been working on this game I would have spent the entire development cycle being sad that a Neo-Nazi is already a thing. And then I suppose I would have been even more sad when I got laid off.