Ride: A Game In Which One Rides (Motorbikes)
Nyoooooom!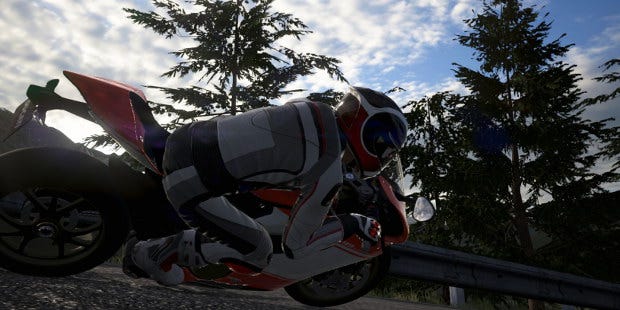 I have dreams of prowling through forest in Oregon or Washington on a sweet hog, just me and the open road - like James Hurley but less of an arse. I also once had someone show me the flesh-flecked insides of their leather trousers after an accident. I have Thoughts on motorbikes, I'm saying, but few are related to this game. I'm wasting your damn time. Sorry.
We haven't mentioned at all that the race fans at Milestone are branching out from licensed games to make their first own original game, Ride. So here's a post sparked by news that the bike-o-racer now has a release date: March 20th.
Ride is a video game in which you ride motorbikes and you ride them fast, because your rides are actually races. Some of the motorbikes you ride are new, like an electric superbike, but some of the ones you can ride are older 'historical' bikes. But where does one ride bikes? On tracks set in cities, around the countryside, and on circuits, is the answer.
It takes guts to claim such a prominent verb for your game's name. "Yeah, our game about riding has such good riding that we went ahead and named it ride," it seems to claim. "You might say it's the definitive riding experience." I wouldn't name my platformer Jump or my FPS Shoot. Perhaps this indicates they're really committing to this, something they own themselves, and doing their level best; it sounds like their World Rally Championship and MotoGP games have been a bit lacking in recent years.
Milestone are being quite secretive, mostly showing renders of bikes with rare snips of gameplay at events, which perhaps doesn't bode well. Here, you can watch a bit this-a-way.