Rise Of The Rayman: JUJU
Cooperative platformer from ROTT devs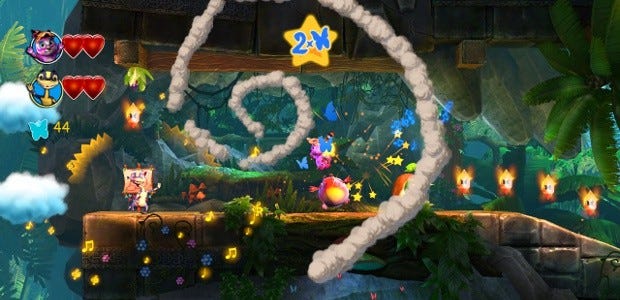 One minute you're making Commander Keen and the next you're Knee Deep In The Dead. id Software might be known for their violent first-person shooters but there was a time when their core franchise was all about a young lad called Billy Blaze fighting daft aliens, bouncing around on a pogo stick, and collecting chocolate bars and bottles of pop. Flying Wild Hog, creators of Hard Reset and the brill Shadow Warrior reboot, are undergoing a form of the id transformation. But in reverse. From ludicrous gibs to JUJU, a cooperative platformer that is as bright and breezy as Billy Blaze himself. It's out now.
JUJU is intended to be a game that offers a decent challenge to solo players, while allowing a second player to enjoy an easier experience. The initial character's difficulty level doesn't plummet simply because another player has joined - instead, a second player controls an alternate character with an easier play style.
Here's an odd launch trailer, which makes the game look unnervingly similar to Rayman Oranges and Lemons, while also making me fear for the people who play it.
What happens when they reach a lava level? What happens if they play Shadow Warrior?