Broslike: Rivals Of Aether Hits Steam Early Access
Or a Smashlike - whatever!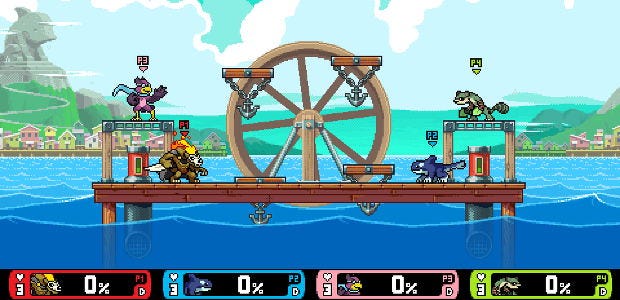 Sure, nowadays we have Street Fighter, Dead or Alive, and loads of neat-o indie fighting games on PC, but one series it seems unlikely we'll ever see round our away is the Nintendobox's Super Smash Bros. (for the uninitiated, it's Bros like the band). Still, this being PC, we can just make our own Broslikes. Which, obviously, people do.
One promising new entry in the genre is Rivals of Aether [official site], a Broslike offering fighty action with diddy animal people. The full launch is still a few months away, but Broshungry folks can get in now on Steam Early Access.
The full version will have local play with 1v1, 2v2, and free-for-all scrapping, a wave survival mode with leaderboards, a singleplayer story, and, of course, online multiplayer. The initial Early Access release is more limited, with local battles, a practice mode, and 1v1 online play.
But what is a Broslike? Ah. Well. You see. It's a 2D platform-o-fighting game with multiple lives on stages with skyplatforms you can knock people off as you scrap. This is not a very technical answer but look, it looks like this:
Creator Dan Fornace - who you might know for free Smash demake Super Smash Land, or as lead designer on the new Killer Instinct - expects that the game will be on Early Access for six months. That half-year will be used to tweak balance and let people play while the team work on singleplayer and the rest.
Rivals of Aether costs £10.99 on Steam Early Access for Windows. Initial responses look awfully positive.