Run as fast as you can: Super Cloudbuilt out now
Speed running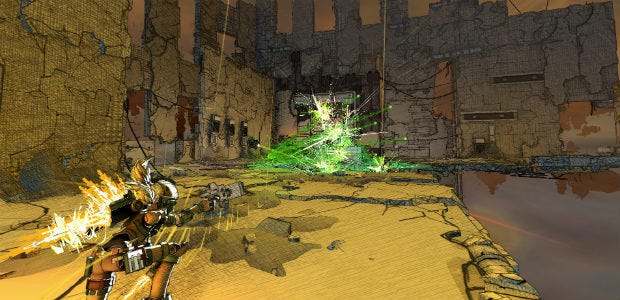 Cloudbuilt was a speedrunning game in the most literal sense: you ran, wall jumped and skidded through dreamscape levels as fast as you could. If you could get over the difficulty (Ben reviewed it and broke a cupboard door in frustration), then it was very good. This week it has returned in an updated and expanded version called Super Cloudbuilt [official site].
The levels are bigger, with more routes to get to the end. There are now proper enemies: in the original there were land mines and turrets and the like, but now there's folk running around trying to gun you down. There's all the visual enhancements you'd expect, too, and the mechanics have been tweaked to make them more friendly to newcomers.
The emphasis is still very much on getting from point A to B as fast as you can, but the grander scope means that players will have more of a chance to explore, and there's more focus on the story this time around. Here's what developers Coilworks and Double Eleven say:
"[We] reevaluated the game from the base mechanics up. The result stands as a definitive edition, making the experience more intuitive to new players, while adding increased depth and variation, allowing you to choose between taking your time to explore and focusing on blistering speeds and high scores."
And here's the launch trailer:
If you loved the original, or were keen on it but never picked it up, then Super Cloudbuilt could well be worth a look. Here's some more of Ben's thoughts on the original:
"The feeling that lingers after playing Cloudbuilt is a sense of accomplishment. Beating a level you've been trying for half an hour, an hour, three, is fist-pumping, arm-raising, Daniel Bryan-tier elation.

"Perfecting a run through a segment, free-flowing from wall-run to jump to climb to blast that enemy is pure joy. It will make you believe you are a god, the time spent swearing and feet-stamping slipping away. I can only imagine how it feels to shave a completion time to within an inch of its life and top the leaderboard – but I'll go with 'gamegasm'."
The early Steam reviews look good, and everyone's saying it's a more polished version of the original. You can pick it up on Steam for £14.39/17,99/€$17.99, including a 10% discount that lasts until Tuesday. People who own the original Cloudbuilt have received 30% discount coupons.