Sable makes a strong case for being the prettiest game of E3
Has 80 Days' writer too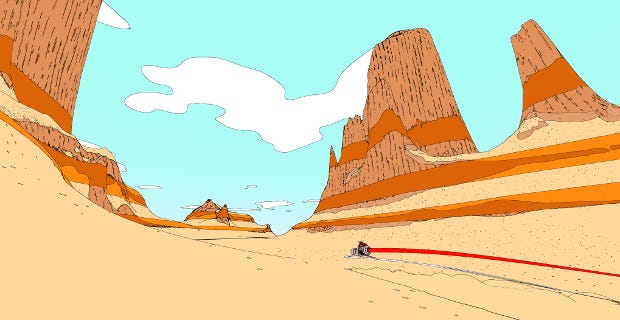 I don't really know what Sable is going to involve. I'm not sure I much care, so long as it looks and sounds like this.
Reminds me a litte of that super-widescreen, charmingly lonely early stretch of The Force Awakens where it's Rey scavenging and subsisting in a vast desert scarred by the relics of ancient war, which I think I could have happily watched a whole film about.
Here's the official description:
"A coming-of-age tale of discovery through exploration across a strikingly rendered open world desert. Go on a deeply personal journey across an alien planet as the young Sable, exploring ancient monuments, ruined architecture, and ships fallen from the cosmos, all while learning the history of its inhabitants and discovering her place in the world."
There's probably a bit of Journey in there, but the involvement of the ever-remarkable 80 Days' writer Meg Jayanth would seem to suggest we're in for some strong and characterful narrativising as well as free-roaming exploration.
Sable hails from new London studio Shedworks, and I imagine you'll be wanting to know about that soundtrack - it's by Michelle Zauner of the band Japanese Breakfast. It's due out next year, and you can go and rub some delightful screenshots of it over your eyeballs here. A Steam page is already up for wishlisting.
Check out our E3 2018 tag for more announcements, trailers, news, and goodness knows what else.