Wax On, Wax Off - Saint Seiya: Soldiers' Soul Announced
Anime fighting game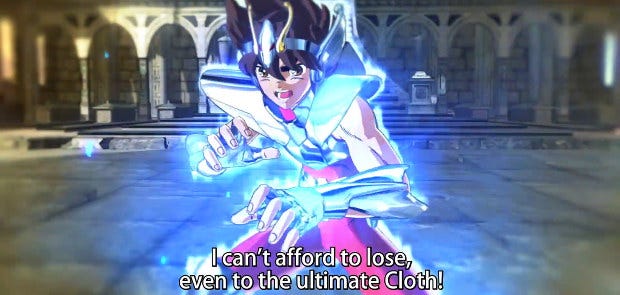 What is the cloth that has everyone so excited in Saint Seiya: Soldiers' Soul [Japanese site]? "The Cloth granted by destiny", characters call it, "the God Cloth", and "the ultimate Cloth". I'm imagining a beautiful fabric, perhaps the ghostly batique owl quilting fabric I bought on a road trip through North California ("You will never do anything with that," Pip scolded me). John, as a parent dealing with all manner of unsightly fluids, has imagined the game's about battling stains with rags.
All we can say for certain is what Namco Bandai have announced: the fighting game sequel is coming via Steam this autumn.
I've cheated and looked it up: Cloths are the names of fancy magical armours charged with the powers of constellations worn by sacred warriors fighting for Greek gods. Sorry, John. It's based on a long-running anime/manga series, see. Soldiers' Soul is the sequel to a game released only on PlayStation 3, back in 2013.
Publishers Bandai Namco are pretty keen on PC now, producer Ryo Mito told Destructoid at the announcement event. "The fact is games are developed on a PC already, so it's not a big deal," he said. "We really wanted to get the game into the hands of more players so we're excited to work more on the platform in the future, and will be supporting it more as time goes on."
Supposedly it'll run at 60fps in 1080p on PC, and won't have an English dub so yes, you'll get to hear all this dramatic shouting about Cloths: