Salad Fingers Gets A Point And Click Adventure
Gross.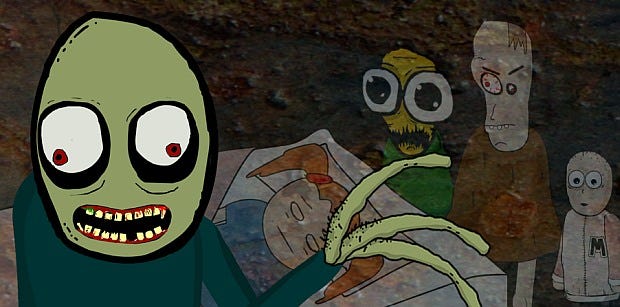 Let's take you back to the salad days of 2004 when a guy by the name of David Firth made an animated Newgrounds series about a sickly looking Northerner in a desolate world of finger puppets, a plot I can only assume is directly inspired by the life and times of RPS' famous Adam Smith. Salad Fingers is now crawling out from the noughties and into nostalgia-laced modernity with a new point and click adventure game - albeit one made without Firth's involvement. It's called Salad Fingers Where's May Gone and there's a trailer below.
Where's May Gone is set in the same universe as the original cartoons, in which you play a survivor of The Great Way who awakens from a coma to find themselves held captive by the titular green dude. Your aim is to escape and explore the Salad Fingers universe while in search of your daughter May. You'll relive events from the Salad Fingers series of yore, although from a different perspective altogether. Likewise, clues to some of the puzzles can be worked out by watching the old series.
The game is part of a three-part series which is planned to release in full by the end of this year. You can download Act 1 from here now.