Sayonara UmiharaKawase's Boingy Grappling Line
Vintage Japanese series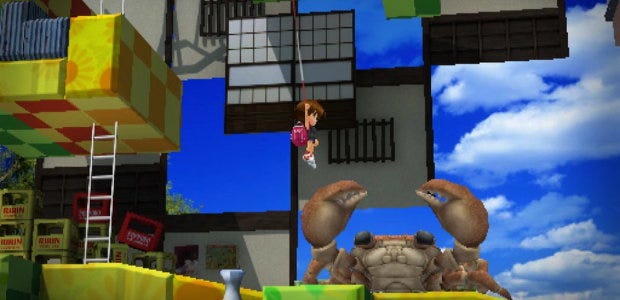 Grappling hooks are the single greatest tool a video game can have, right? What could be more fun than swinging around a level with gay abandon, turning excluding architecture into a playground? The answer is: an elastic grappling line which also boings you around.
Sayonara UmiharaKawase [official site] sees a young sushi chef platforming around with her trusty fishy rod, latching the hook onto levels and swinging on a rubber line to pull off some pretty swish movement tricks. Following a Vita release earlier in the year, it's swinging by here in October. Check out these moves from the Vita version:
The series has been running for twenty years, but I must say this is the first I've heard of it. Think of all the years I wasted not boinging on fishing lines. The line tricks to loop up and over obstacles or simply move faster look delightful, and make me realise this may be the closest I'll get to the Trine spin-off starring its swinging thief that I've always wanted.
Sayonara UmiharaKawase will cost £10.99/14,99€/$14.99. The PC version is "Completely optimised for PC," say publishers Agatsuma Entertainment. They've also announced plans to release UmiharaKawase and UmiharaKawase Shun, the first two games from the series, on PC later this year.
Don't mind that messy screenshot up top - it's from the Vita version too.