Serious Sam 3: BFE Landing This Summer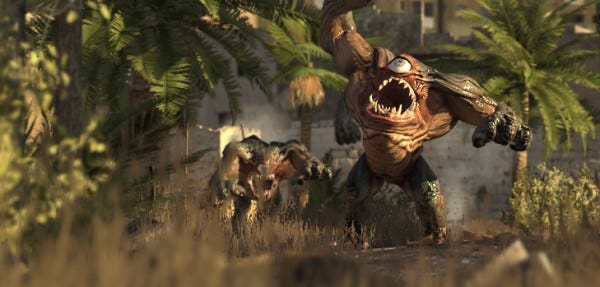 Croteam said this was coming, and here it is. The plucky Crotian indie developers have announced Serious Sam 3: BFE is coming this Summer, and you'll find all the screenshots plus the (really quite good) press release after the jump.
Turns out it's a prequel, shares the Egyptian setting of Serious Sam: The First Encounter and will feature up to 16 player co-op. 16! That said, the press release still doesn't explain what BFE actually stands for. Big F**king Enemies? Battlefield Earth? I like the commenter over at PC Gamer who suggests "Budget FPS Entry". Words and pictures follow...

Click on 'em to make these shots SERIOUS (bigger). I'll tell you what, seeing those one-eyed creatures re-imagined for a modern engine has made me come over all giddy. I must have really liked the original game.
I kind of want to restrict my professional analysis to "What the shit is going on with that helicopter in the second picture?" But I guess I'll also say that this all looks quite high poly, doesn't it? It strikes me that with visuals like this you'd have trouble fitting quite as many enemies on screen (not to mention keeping the action as smooth) as Serious Sam has always been famous for. Then again, the first shot shows quite a lot of enemies. Course, it could be staged. Ah! I think I'll just have faith and wait for some footage to surface.
Hey, does everyone remember the temple full of graphical effects you could access through the main menu of Serious Sam? It was just a little pyramid where each room showed off something the engine could do, like reflections, particle effects, fog and so on. I'd love for that to catch on.
So it turns out that thing's crotch is quite unassuming after all. I can go to sleep with the lights off again!
And here's the press release, featuring the best publisher quote ever.
TIME AND PLACE ARE SUBJECTIVE – BOOM! That was the sound of Serious Sam 3: BFE news dropping. Croteam's Serious Sam 3: BFE is a glorious throwback to the golden age of first-person shooters where men were men, cover was for amateurs and pulling the trigger made things go boom. Serving as a prequel to the original indie sensation, Serious Sam: The First Encounter, Serious Sam 3: BFE takes place during the Earth's final struggle against Mental's invading legions of beasts and mercenaries. Set against the collapsing temples of an ancient civilization and the crumbling cities of 22nd century Egypt, Serious Sam 3: BFE is an exhilarating fusion of classic twitch shooters and modern gameplay features.

"Serious Sam 3 is about pure fun and unfiltered action," said Davor Hunski, chief creative officer of developer Croteam. "We wanted to expand on everything gamers love about the series while adding some genuinely unique new features to really enhance the mayhem Serious Sam is known for."

Trademark features such as relentless hordes of spectacular enemies and expansive outdoor battlefields return in Serious Sam 3: BFE at full force. Other features include:

Frantic Arcade-Style Action – The calling card of the Serious Sam series, hold down the trigger and lay waste to a never-ending onslaught of attackers or face being overrun by Mental's savage beasts. No cover systems, no camping – it's just you and them. All of them.

Mental's Fearsome Legions – A new battalion of unforgettable minions including the rumbling Scrapjack and towering Khnum join the legendary Headless Kamikaze, Gnaar and Sirian Werebull. Your days of mowing down zombie Nazi space pirates are over.

Serious Melee Attacks – When an enemy slips by your wall of lead and pain, use one of the all-new innovative melee moves to drop an enemy right where they stand in the most violent way possible.

Pure Multiplayer Mayhem – Play through the full campaign mode with up to 16 players or drop the gauntlet and let the heavy ordinance fly in versus modes like Deathmatch and Beast Hunt. This is the next level of Serious Sam multiplayer and all hell is about to break loose.

"Holy crap, I am going to make a boatload of cash of this game," said Fork Parker, chief financial officer at Devolver Digital, the Serious Sam 3: BFE publisher. "I mean that's what this is all about, right? If this thing comes out in the summer my wife is totally getting the tit job she's been asking for."

Serious Sam 3 will bring the boom to PC and game consoles this summer.

When asked for further comment, Fork replied, "Bam. Tit job."

Reveal In-game Screenshots and game art image

http://www.box.net/shared/pfepdp5n96

About Croteam
Croteam are the creative force behind the massively successful Serious Sam series, which is recognized across the globe for its action-packed and entertaining game design and its powerful Serious Engine technology. Founded in Zagreb, Croatia in 1993, Croteam has grown to become one of the most successful and respected developers in Eastern Europe. More information about Croteam can be found online at www.croteam.com and twitter.com/croteam.

About Devolver Digital
Devolver Digital is a small, laser-focused production and publishing company based in Austin, Texas, (also with one very lonely desperado in London) from an unnamed group of industry veterans/outlaw refugees. Our Twitter handle is @DevolverDigital so hook it up.

###