Serious Sam 3 To Feature 4-Player Splitscreen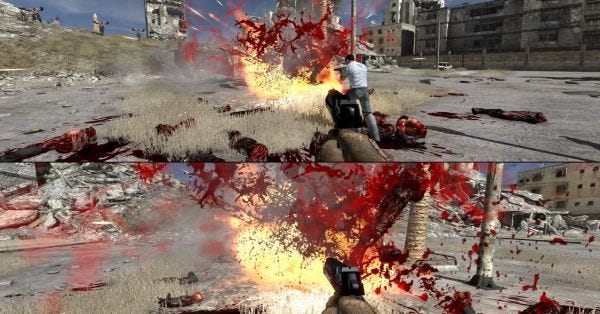 The fans, they demanded of Croteam that Serious Sam 3: BFE feature four-player splitscreen play. And so it came to pass. RPS can exclusively reveal that the forthcoming ultro-shooter will allow you to gather around a PC monitor with your chums and FIGHT. Up to three gamepads can be used alongside one mouse and keyboard to have four-player multiplayer and co-op. You can see full-size screens below.
This accompanies the game's extraordinary offer of 16-player co-op across via internet play, and provides a rather pleasing contrast to some other publishers when it comes to taking care of PC gamers. Croteam lead programmer Alen Ladavac says,
"Serious Sam games are known for frantic campaign coop and multiplayer modes so we wanted to make sure that Serious Sam 3: BFE dials up the chaos even more with local split screen co-op at launch. Serious Sam fans have been very vocal on the Facebook fan page and the forums about split screen modes so we wanted to make sure we exceeded their expectations."
Then publisher Devolver's Fork Parker goes on to explain what else this feature offers players, in his own distinctive style:
• Visual identification of opponents allows for more accurate racial and gender slurs during Deathmatch and Capture the Flag games.

• Close proximity allows for unwanted sexual advances towards opponents without fear of reprisal due to their fear of losing the lead in Team Deathmatch.

• Leon's mom usually walks around the house in these ridiculously short shorts that show the very edge of her butt. Seriously dude, you should see these things.
Parker goes on to point out that this feature means fewer copies will need to be sold.
"These Serious Sam nerds need to get a job and pay for their own copy of Serious Sam 3: BFE. We're losing a ton of cash on this little split screen feature. By the way, do they make split screen adult films? Watching four at once would save me a lot of time in the shower. Fuck, don't print that."