Sesame Street Wins The Flappy Bird Clone Game
Brought to you by the letter C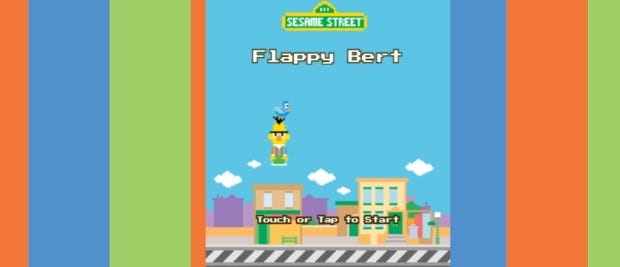 If you ever want to be bored far beyond death, just ask me why I love Sesame Street. I will then begin a damp-eyed monologue about the love and passion that went in, and still goes in, to create something genuinely altruistic, and utterly beautiful. I will perform entire classic Bert & Ernie sketches, looking at you expectantly when you are required to laugh, and then my throat will catch when I express my enormous regret that I can never meet and talk to Jim Henson. Added to my oh-so long list of reasons for loving Sesame Street is Flappy Bert.
I've taken little interest in the Flappy Bird brouhaha, other than to object to the utter nonsense that it's possible to "steal" drawings of green pipes. Images of Nintendo employees searching their offices in desperation, rummaging behind desks and crying out, "Someone's stolen Mario's pipes! We can't make any more Mario games!" tend to lead me toward thinking, "If only - maybe they'd then create a new character this millennium."
But I'm adoring this trend post FB's removal from the iOS store for people to create tribute clones. Yesterday we mentioned Cavanagh's Maverick Bird, and that was joined by the very short-lived FlapMMO (now vanished from the internet, Twitter account suspended - a story there methinks), and also a Fall Out Boy licensed release, Fall Out Bird. Okay, it's not all good.
But push all that aside, because the wonders at the Sesame Workshop have put together another near direct clone, Flappy Bert. Yes indeed, in the 45-year tradition of spoofing current trends, this is Bert, carried by one of his pet pigeons, trying to fly between pyjama-coloured pipes.
And don't think that because this is made by a company aimed at pre-schoolers that it's going to be any easier - it's nightmarishly difficult. Designed to work with either a mouse or a touchscreen, this is every bit as infuriating as I'm assured Flappy Birds once was. Except this is fifty million times better because clearing a pipe is awarded with a Bert laugh, and failure elicits a cry of "Ernie!"
Now can we have a candy-based match-3 where Cookie and Abby Cadabby race to stuff sweets in their mouths?