Shelter Creators Announce Explore 'Em Up Meadow
Make fluffy forest friends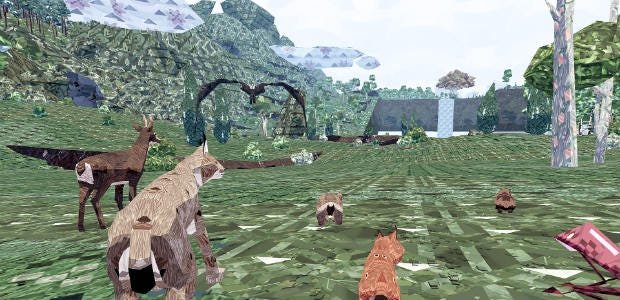 Pip once speculated that Might & Delight's upcoming Meadow [official site] might be a game in which you play as a mommy meadow nurturing a litter of baby meadows, keeping in line with Shelter's tradition. While that is a game I would certainly be interested in, it seems Might & Delight has a different vision for their latest project.
Unlike Shelter 1 and 2, Meadow seems to be less about struggling to keep your cubs from succumbing to a nasty demise, and more about making friends. Lynx walk side-by-side with fox and deer in blissful harmony. Sure, that doesn't make a whole lot of sense in the real world, but Meadow is all about exploring and the social experience. Might & Delight heralds the game as a sort of nature playground.
That looks and sounds quite nice, doesn't it? Meadow seems pretty open, allowing you to group up with other players or go it alone. In your den you can create a customized animal that suits your fancy, choosing from a number of different fur textures and facial expressions. You can communicate with other critters using a collection of emotes and sounds. Might & Delight will be adding new goodies in updates after release to keep things exciting, too.
The team has some add-ons for those who own previous Shelter games and products. If you've got a copy of the original Shelter, you can play as a badger, and Shelter 2 unlocks the lynx, and so on. If you own all things Shelter, you unlock the ability to play as a bird. You can find a full list of extras right here.
Meadow is a fresh foray for Might & Delight, but its similarities to Tale of Tales' 2005 MMO The Endless Forest are clear. The Endless Forest casts players as a deer with a bizarre human face. There are no real objective to the game. Instead, you simply wander around in search of other deer, interacting with your cloven-hooved friends using a variety of emotes. Certain interactions would trigger events, and you could unlock new antlers, masks, and coat patterns for your deer. It was all very quiet, a sort of interactive meditation on nature. Meadow seems to be a less magical approach to this sort of game, but it will be interesting to see how it draws inspiration from The Endless Forest.
Meadow is due out on Steam for Windows and Mac on October 26.