Shop 'Til You're Shot: Nuign Specter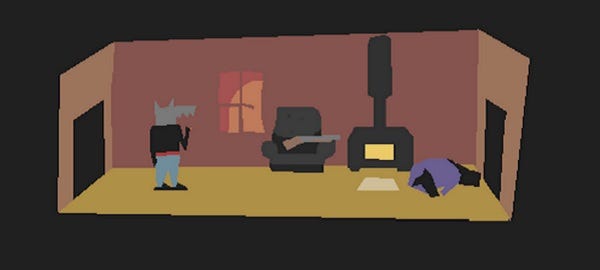 Nuign Specter is free, short and fantastic. It starts like this: "My actions had attracted a specter." Oh no! As the dog-man star of this short tale hobbles jerkily through his house, it's tempting to think Nuign Specter is a horror game. Glitchy graphics, odd sounds and the sharp, angular world all add to the sense that terrible things are about to happen. It's not really that game though. Despite being only a few screens in length, Nuign doesn't use its limited space to scream 'Boo' repeatedly like a traumatised Yogi Bear. Instead, it builds a tiny, fascinating trap to escape from. Download it immediately. Slight spoilers below.
The way the screen tears and collapses whenever the shotgun fires is awesome. The fact that it's possible to play forever, trapped in a loop is nightmarish. The 'actions' of the prologue are contained within the game, although it's necessary to play through at least a couple of times to discover everything. Even then, who knows if causality exists beyond the bullet and the victim? Not me. I don't even know if that question makes sense.
Found at the splendid freegam.es.