Ding ding! Drive a cat tram in browser game Short Trip
Short but sweet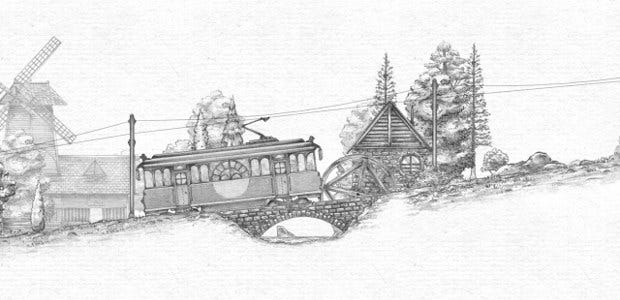 Fancy driving a tram through picturesque mountain villages populated by cats? Course you do! What you want is Short Trip [official site], a new free browser-based game from Alexander Perrin. It's a delightful hand-drawn tram simulator rolling through hamlets and forests, over streams and up hills, taking in the sights and sounds. Just the ticket on a Monday!
As a cat person yourself, potter out your horse, board the tram, and roll on along your route, pick up and dropping passengers off along the way. I suppose you could not let passengers on or refuse to let them off, powering on through the landscape while ringing your bell wildly.
Oh yes, hot tip: press space to ring your bell.
You can play Short Trip free in your browser on Perrin's own site or Itch.
One little detail I always enjoy: the build village clocks reflect your system clock. Yes, this short trip is exactly what I need right now.
Looking at Perrin's other work, I see he previously worked on something with a similar style. Noirmittens was a game about catfolk transporting goods by boat and by walking house, but he stopped working on it in 2015. As much as I like this boat, Short Trip is certainly more my bag.